Senior Services
Information about services for seniors in Albuquerque.
The Department of Senior Affairs provides many services to older adults. These include:
Please call the Senior Information Line at (505) 764-6400 (TTY: 1-800-659-8331) for more information about any of our programs and services. Lines are open M-F, 8:15 a.m. to 4:30 p.m. Saturday calls between 9 a.m. to 5 p.m., will be routed to 311. There is no service on Sunday. 
Age Requirements
Many of the services offered by the Department of Senior Affairs are generally designed for those ages 50 and older. Programs funded by the Older Americans Act and the Area Agency on Aging (Home Delivered Meals, Transportation, and Care Coordination) have a minimum age of 60. Some classes, trips, and services require a fee. Other services, including lunch at our meal sites, may request a donation or a nominal fee; however, no one is denied services for choosing not to contribute.
For those under 50 years of age, the Department of Senior Affairs offers a selection of services and activities through our multigenerational centers. Find a multigenerational center near you.
 
Quick Guide to Senior Services
This Quick Guide to Senior Services offers a wealth of information about services and resources for seniors and family caregivers throughout the Albuquerque area.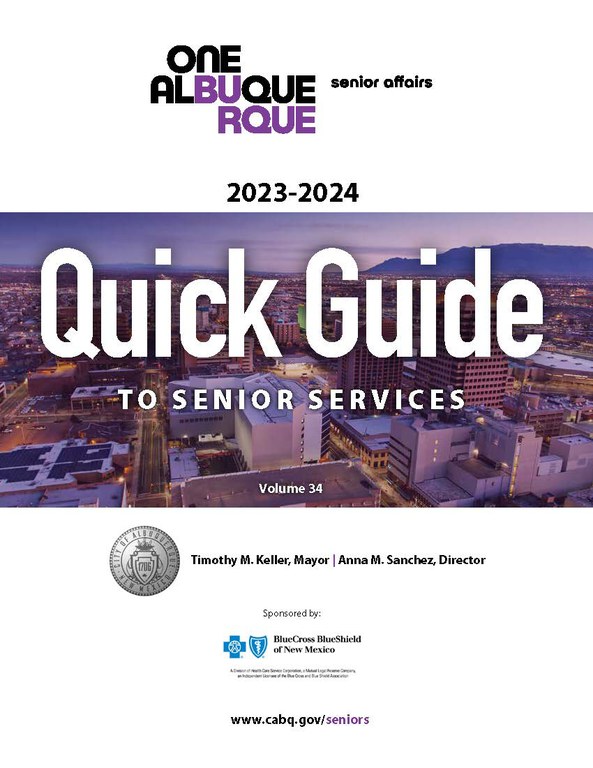 Senior Affairs Activity Catalog
Learn more about sports & recreation activities, classes, meals, and special events offered at our senior, multigenerational, and sports & fitness centers. 
View the Activity Catalog