Department of Senior Affairs
We are committed to providing resources with care and compassion that help our community thrive while embracing aging.
Nutrition Information
For information about how to receive other services for seniors in Bernalillo County, call 505-764-6400.
The Department of Senior Affairs offers a continuum of services designed to support Albuquerque residents as they age, from year 5 to 105! Still, our primary focus remains on helping seniors live with dignity, stay healthy, and engage with their community. 
To do this, the Department provides many services and programs for adults ages 50 and older, including social services, recreation & fitness programs, transportation, nutrition services, and volunteer programs. We also offer a variety of programming options for all ages through our two multigenerational centers. 
Important Notices & Updates:
We are Open!  All Senior, Multigenerational, and Sports & Fitness Centers are open for full operations. For more information or details about our class schedules, hours of operations, or activities, please contact your center directly or call our Senior Information Line at 505-764-6400.  
Senior Affairs Transportation Program Expanded!  

The City of Albuquerque Department of Senior Affairs Transportation program is a

curb-to-curb

 service offered to adults 60 years and older in the Albuquerque, and surrounding Bernalillo County area. These services include transportation to medical appointments, nonmedical errands, and limited mile-radius transportation to all City of Albuquerque senior and multigenerational centers, as well as select satellite senior meal sites. To request transport services, please call 505-764-6464.

 
Senior Affairs is now accepting online donations!  Your donation could help provide recreation opportunities, meals, home services, transportation, care coordination, information, and more to seniors throughout Bernalillo County. Donate here. 
The ABQ Veterans Ride Initiative has expanded the number of accepted identification forms that allow veterans to ride all City of Albuquerque Transit systems for free. Click here to view the accepted forms of identification. Those wishing to use SunVan services must still qualify and follow all reservation rules.
For information on New Mexico Aging and Long-Term Services, click here.
Quick Guide to Senior Services
This Quick Guide to Senior Services offers a wealth of information about services and resources for seniors and family caregivers throughout the Albuquerque area.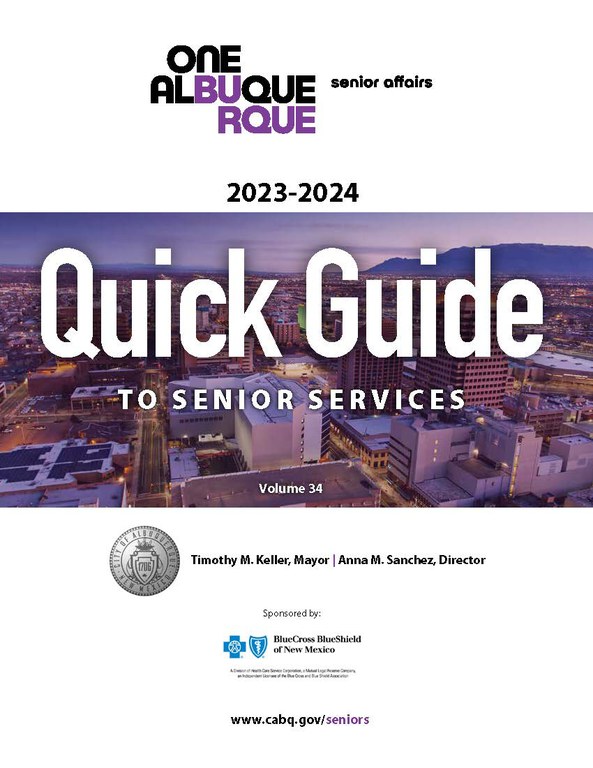 Senior Affairs Activity Catalog
Learn more about sports & recreation activities, classes, meals, and special events offered at our senior, multigenerational, and sports & fitness centers. 
View the Activity Catalog
Strategic Plan 2023
The Department of Senior Affairs Strategic Plan is a guide for our work as we set the course for 2023 and beyond.
View the 2023 Strategic Plan