APD Releases Second Podcast Episode: The Missings
Episode 2 features 8 women who remain missing believed to be tied to West Mesa Case
Aug. 2. 2022
ALBUQUERQUE – The Albuquerque Police Department has released its second episode of the Duke City Case Files Podcast, titled The Missings.
Episode two features eight women who all went missing between 2003 and 2006. In 2009 the remains of 11 women and an unborn child were found along 118th Street along Albuquerque's West Mesa. Investigators believe the eight women featured in Episode 2 may have met the same unfortunate fate as the women found on the West Mesa.
"As a parent, I try and put myself in their shoes, just to know they're not forgotten and we're still looking for them, that's what I would want," said Investigator Ida Lopez. "I can't imagine the not knowing, that would be so heart wrenching."
In 2005, Investigator Ida Lopez was working in Missing Persons and began noticing a pattern of women who'd been reported missing. As the year's followed, the list grew. In 2009, when the first bone was found on the West Mesa, Ida believed the women would all be found together and many of them were. However, eight of the woman on her list, still remain missing.
The women who remain missing are:                                                                            
Martha Jo Lucher: Last seen 2003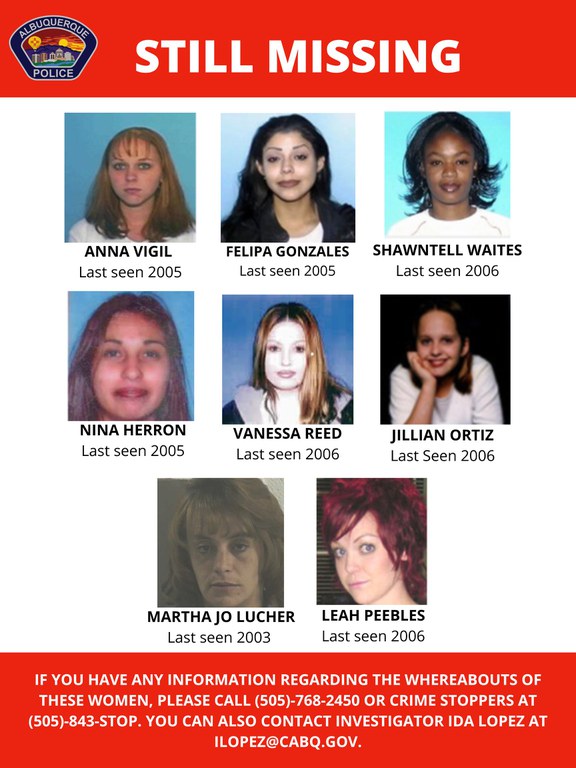 Anna Vigil: Last seen 2005
Felipa Gonzales: Last seen 2005
Nina Herron: Last seen 2005
Vanessa Reed: Last seen 2006
Jillian Ortiz: Last seen 2006
Leah Peebles: Last seen 2006
To watch, Duke City Case Files Podcast Episode 2: The Missings, follow this link.
If you have any information regarding this case, you can contact Albuquerque Metro Crime Stoppers at (505)-843-STOP (7867) or on their website at Crimestoppersnm.com. You can also contact Investigator Ida Lopez at [email protected].
###