APD Honors Victims and Survivors for Crime Victims' Rights Week
During Crime Victims' Rights Week, APD launched a new website for victims of homicide. The department's Crisis Response Canine also received his official badge.
Mon. Apr. 25, 2022
ALBUQUERQUE – The Albuquerque Police Department today held a press conference highlighting Crime Victims' Rights Week, to renew our commitment to serving victims of crime.
Last week Mayor Tim Keller signed a proclamation recognizing Crime Victims' Rights Week as April 24-30, 2022. The city reaffirms its commitment to creating a victim service and criminal justice response that assists all victims of crime and expresses our sincere gratitude and appreciation for those community members.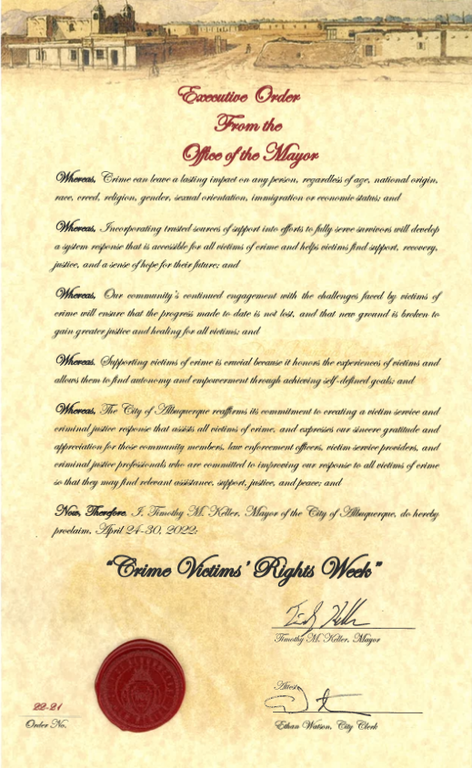 "Since I became Chief, I have made it one of my key missions to focus on victims and survivors of violent crime," said Chief Harold Medina. "No one can possibly understand the loss of a loved one to homicide, except those who have been through it. I have enlisted or Criminal Investigations Division to take on this mission head on, and we want each and every victim and survivor to know we support them and we are here for them through the entire process."
Today, a new webpage also went live on the Albuquerque Police Department's website called "Always Remembered". The page was created as a part of the Albuquerque Police Department's mission to honor victims and their families and also as a way to generate new leads.
Within the "Always Remembered" webpage, links to cases, organized by year can be found. Within the links, you will find details on the homicide cases, photos of the victims, testimonials from the victim's families and a tab for where you can submit tips on the cases.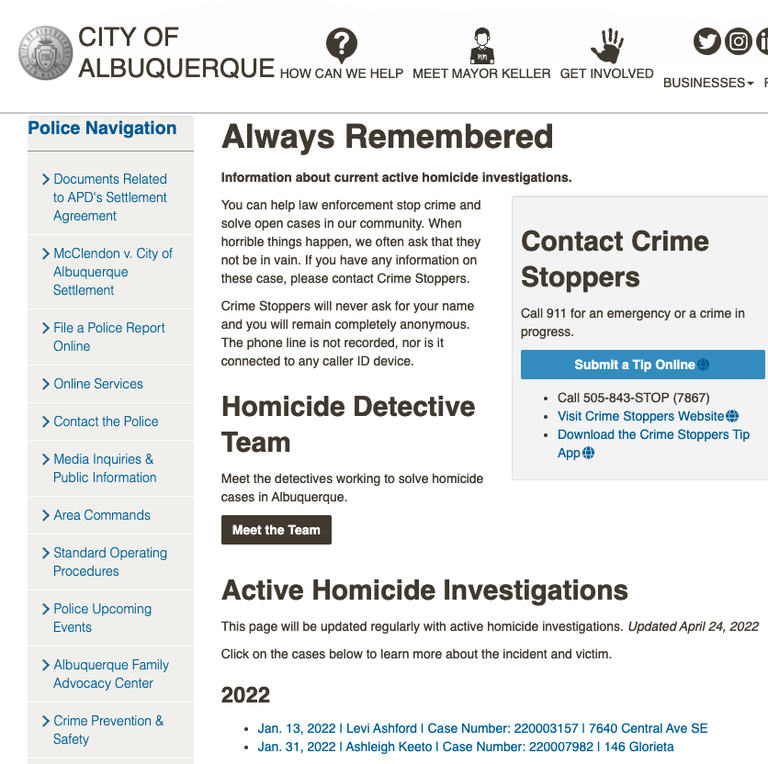 On the main landing page, the public can also find information about the executive staff and detectives within the Homicide Unit. Not all cases on the website are unsolved, and the status is clearly identified in each link. Some of the homicide cases featured have been solved and an offender charged, however we are seeking information on the offender's whereabouts. The webpage launched with the first 15 cases, but APD will be adding more to the site as family testimonials of their loved ones continue to come it.
At the press conference, Deputy Commander Kyle Hartsock of the Criminal Investigations Division announced the start of Community Conversations. The first session will be hosted on Wednesday April 27, from 6:00-7:30p.m. held in City Council Chambers. The open forum will discuss issues facing survivors of homicide. Members of the community can ask questions, raise concerns, and engage in discussion. Each session will include city and state leaders along with APD Command Staff.
Among the announcements made, included the expansion of the Victim Service Unit.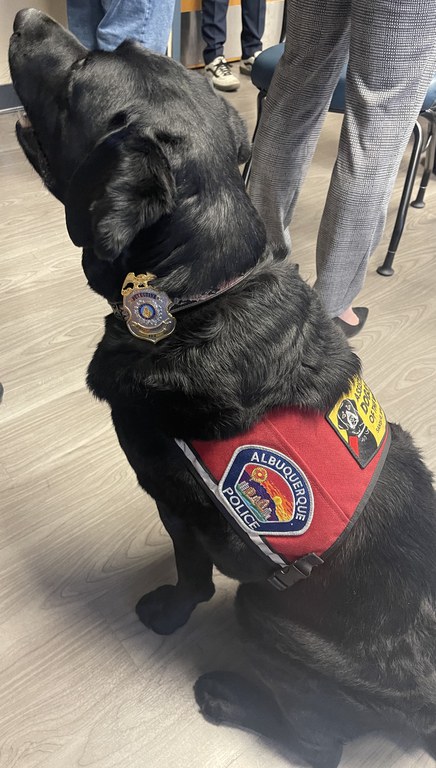 Currently Terry Huertaz, the Victim Liaison Manager runs the unit, and two new advocates will be joining the department in the near future, to further assist survivors of homicide.
To conclude the event, APD's Crisis Response Canine Graham received his official department badge. Graham was officially sworn in alongside Chief Harold Medina in 2021 and since then has helped countless victims and their families. 
APD would also like the express its sincere thanks to Representative Miguel Garcia who during the 2022 Legislative Session helped secure $500,000 for law enforcement victims advocates statewide.