Ambassador Program
About
APD's Ambassador Program was created in the fall of 2020 and was designed to facilitate clear, consistent lines of communication with different groups within the community who have not previously had a voice with the police. Building trust with the community is a critical component to making the public safer.
When APD began recruiting officers to become Ambassadors for diverse groups within the community, there was tremendous interest and the unit continues to grow.
APD Ambassador officers are expected to host at least one scheduled formal communication event each month and provide monthly briefings to Chief Medina. The Ambassadors outline topics of discussion and provide the department with suggestions in which APD can improve in community relations based on the conversations they are having with the different groups they are working with.
The Ambassadors are also required to arrange at least one lunchtime discussion with APD cadet classes and their designated community group.
Meet Our Ambassadors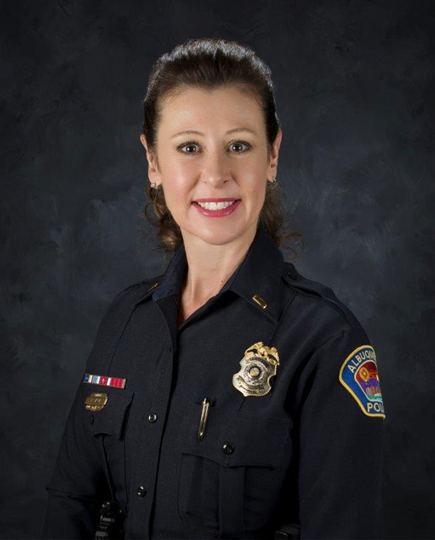 Lt. Jennifer Garcia
Community Engagement Unit Supervisor
Jennifer is a Native Burquena, raised on the west side of Albuquerque. She attended NMHU and the UNM where she earned a BA in psychology and a MA in Counseling and Guidance. Prior to joining APD in 2003, she worked as a youth a family counselor at a local non-profit agency and shelter and also served as a treatment coordinator for a youth residential facility. Jennifer is currently assigned to the Community Engagement Section and oversees numerous units to include the Ambassador Program.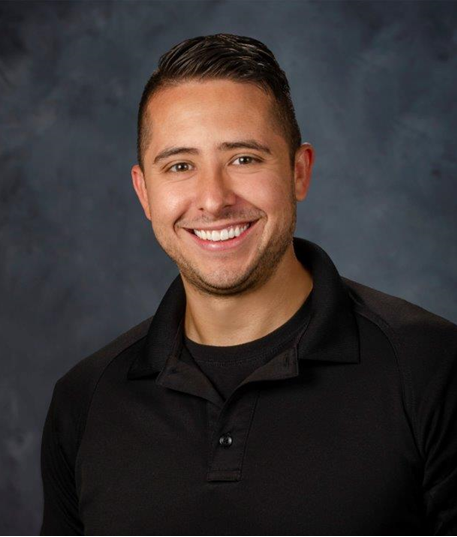 Officer Brett Garcia
Faith Community Ambassador
I have been a member with the Albuquerque Police Department since 2015. I was born in Tacoma, Washington and graduated from the University of New Mexico. I am currently working on completing my Masters in Public Administration. I am a husband, father, and man of Faith. I love long walks in the desert and In my free time I enjoy archery, hunting, escape rooms, kettlebells, and eating way too many desserts.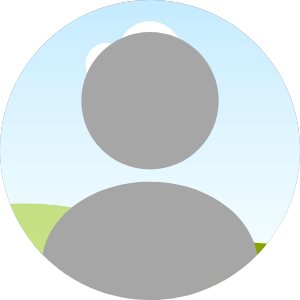 Officer Chase Jewell
LGTBQ Community Ambassador
Chase, a born and raised Albuquerque native, has been a employee of the Albuquerque Police Department since 2018; and has served as a Police Officer since he has started with the department. Chase shares a passion for community oriented policing and ensuring the safety of the public here in Albuquerque. He believes that the Ambassador Program is an essential element in restoring trust and rebuilding relationships with often forgotten about communities. While being an officer, he has obtained certifications in Enhanced Crisis Intervention (ECIT), he works with our Mobile Crisis Team as an alternate officer, and is a member of the Emergency Response Team. Chase is also one of the Uniformed Public Information Officers. He holds a Bachelors in Public Communication and Political Science (focused in Constitutional Law).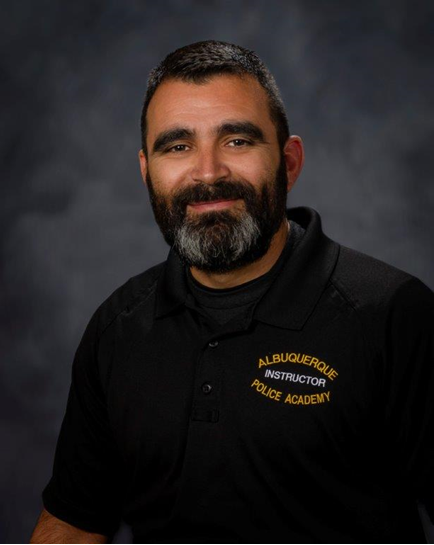 Officer Emmanuel Solis
Hispanic Community Ambassador
Officer Emmanuel Solis joined the Albuquerque Police Department in 2013. Officer Solis has volunteer to assist with different collateral duties within the department to include the PIO program for the Spanish stations and the Ambassadors program. Officer Solis' Hispanic background has helped him better engage with the community.
Detective Faith Vigil
ADA Community Ambassador
My name is Faith Vigil, I am a Detective currently assigned to the Violence Intervention Unit and an Ambassador for Americans with Disabilities. I chose this group because of my personal and professional experience. I found it important that our community members have someone from APD dedicated to advocating for them. Prior to joining APD I participated in fundraising and events for Special Olympics. My aunt who lived in our house for several years, is deaf and autistic. I am married with two kids who are learning sign language so that they are comfortable communicating with those who are deaf or hard of hearing. My personal experiences have helped me become a better officer.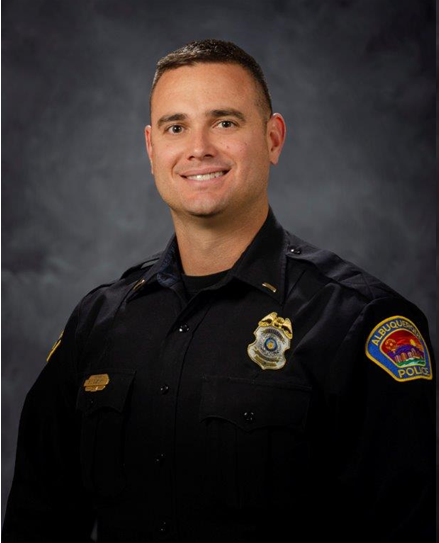 Lt. Gerard Bartlett
Native American Community Ambassador
Gerard has been employed by the Albuquerque Police Department since 2006, and has been a sworn law enforcement officer since May of 2011. Initially, he worked as a patrolman in the Field Services Bureau where he also held collateral duties as a Crisis Negotiation Team Member, Gang Suppression Officer, and Field Training Officer. After promotion to the rank of Sergeant in September of 2017, Gerard was assigned to the Valley Area Command where he worked in the downtown Entertainment District during weekend operations. He then was assigned as a first line supervisor for almost three years with the Albuquerque Police Department's Central Narcotics Unit and Dangerous Drug Unit, which utilize undercover operations to dismantle drug trafficking organizations. Gerard was then briefly assigned to the Violence Intervention Program prior to promoting a second time to the rank of Lieutenant. He is currently assigned the Valley Area Command, where he works as a Watch Commander for grave shift. Gerard also holds a Master of Arts degree in Counseling and is a Licensed Mental Health Counselor in the State of New Mexico. He is married to the love of his life, has two young children, and two dogs.
Officer Greg Valentino
Refugee Community Ambassador
Hello. I have been with the Albuquerque Police Department since 2019, and have worked as a police officer since 2002. I am here to assist you however I can. Thank you.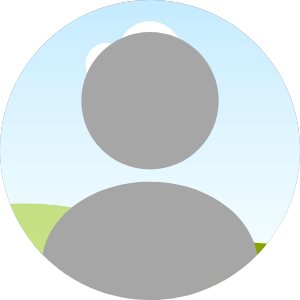 Officer Hence Williams
African American Community Ambassador
Hence Williams was born and raised in Portland, OR. He attended Purdue University on a track and field scholarship and received a bachelor's degree in Law and Society. Hence went on to earn a master's degree in criminal justice from New Mexico State. He started his professional career as a social worker working with mothers addicted to methamphetamine and mentoring with juvenile drug court. Hence's career in law enforcement started in 2005 when he became a probation officer with the United States Probation and Pretrial Agency. After 12 years with this agency, he joined the Albuquerque Police Department in 2017 to be a police officer and be closer to family.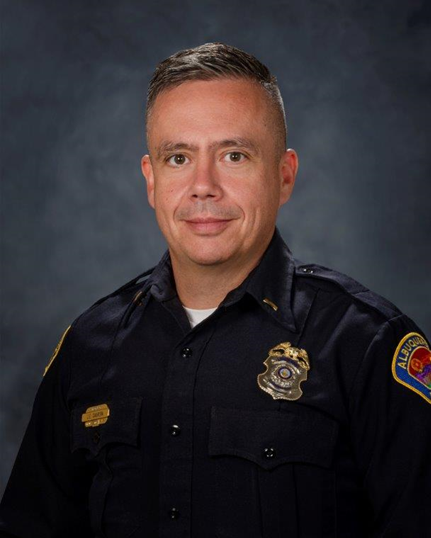 Lt. Juan Cabrerra
Veteran Community Ambassador
Been serving the community since 2003. Prior to that I was active duty US Air Force here at Kirtland AFB. I joined the Army National Guard for 6 years before transferring to the Air Force Reserves and still serving. Been serving the community for 19 years and been serving our great nation for 24 years. Did 2 combat tours, one to Iraq (OIF) and one to Afghanistan (OEF).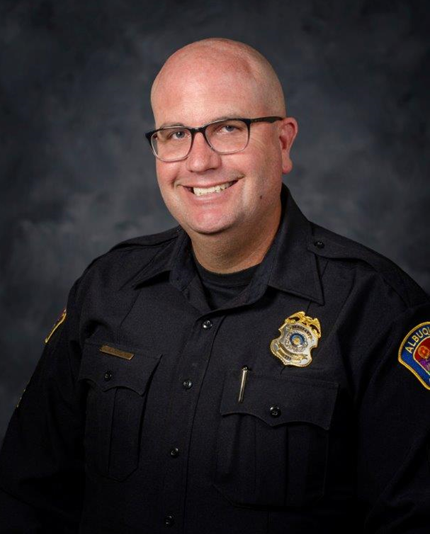 Sgt. Larry Middleton
Veteran Community Ambassador
I was born and raised in Albuquerque New Mexico. I joined the Army 11 days after High School where I served in the 82nd Airborne. I served 3 years active duty in the Army. I left the Army and got married to my High School sweetheart who was in the Air Force. I then joined her in the Air Force where I served 4 years Active Duty in Ramstien Germany. I did Non-Destructive Inspections on Aircraft. During my time in the Air Force I was deployed to Kuwait and Iraq. I left Active Duty in 2007 to join the Albuquerque Police Department. During my time with the Department I have done field work, Field Investigator work, Major Crime Scene Team work, I promoted and went back to the field and now I run the Southwest Area Commands Pro-active Response Team. This team is a community policing team. I also run the Albuquerque Police Department's Lowrider Youth Leadership Program.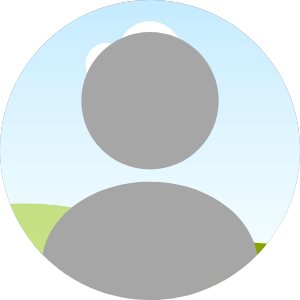 Detective Luis Hernandez
Detective Luis Hernandez has been with APD since Dec 2005, and the city since Dec 2000. Working to invite members of the community to get involved in public safety and other matters that can make l life better for all in the community. To gain the trust of the immigrant community by providing education and information on services provided and how our criminal system operates. To motivate the immigrant community to report crimes and build trust by providing and meeting realistic expectations of services and expectations.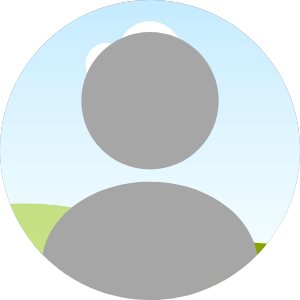 Mark Wells
My name is Mark Wells and I am 29 years old. I have lived in Albuquerque my whole life. I graduated from Highland High School in 2010. I have been a member of the Albuquerque Police Department since 2011. I am currently enrolled at Colorado Christian University to obtain my bachelors in business administration.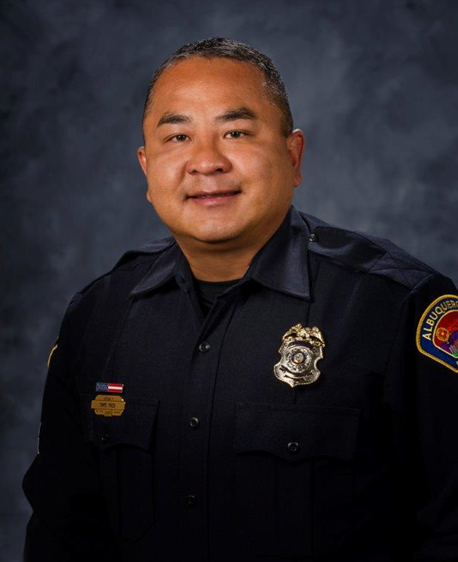 Michael Rico
Native American Community Ambassador
Yá'át'ééh shik'éí dóó shidine'é, Michael Rico yinishyé. Hasht ł 'ishnii Nishlí dee chi łíí Tó Dine'é éí bashishchiin Kiyaa'áanii éí dashicheii dóó dee chi łíí Tó Dine'é éí dashinalí Ákót'éego diné nishłį́.
Born in 1977 in Gallup, New Mexico. Enrolled member of the Navajo Nation. I grew up in the Mariano Lake-Pinedale, New Mexico area. I attended boarding school in Mariano Lake, NM and graduated from Gallup High School in 1995. Go Bengals!
I joined the Albuquerque Police Department in November 2007 (99th cadet class). I promoted to the rank of Sergeant in August 2021 and currently assigned to the Northwest Area Command.
I entered the US Navy in June 1999 and retired in July 2021 after 21 years of service. I am a Military Veteran and served as an Intelligence Specialist to include combat tours in Iraq and Afghanistan.
I graduated from Wayland Baptist University with a Master's Degree of Education (2015) and a Bachelor's Degree in Justice Administration (2007).
I am committed to serve and I will strive to bring awareness to the strength and resilience of Native American and Asian People as your Ambassador for the Albuquerque Police Department. I will actively seek like-minded, goal-driven people to build a network of mutually beneficial relationships. I understand the importance of collaborating with others to look for ways to connect Law Enforcement with Indigenous and Asian communities locally and globally. I will seek methods to support and improve the community relationships to sustain Native American and Asian cultures. I will continue to validate Tribal teachings by practicing our traditional ways and participating in continuing to paying it forward for Indigenous and Asian Languages.
Sgt. Peter Silva
Senior Citizen Community Ambassador
Sergeant Peter Silva joined the Police Department in 2005 and the Recruiting Unit in 2020. He joined the Ambassador program in 2021. During his career he has been a Field Investigator, Field Training Officer, Emergency Response Team Member, and has had collateral duties as a C.A.R.E Officer and Enhanced Crisis Intervention Officer. Sergeant Silva was also a member of several community policing initiatives such as the Police and Communities Together Unit, and Proactive Response Team for the Downtown Public Safety District. He now oversees the Recruiting Unit full time.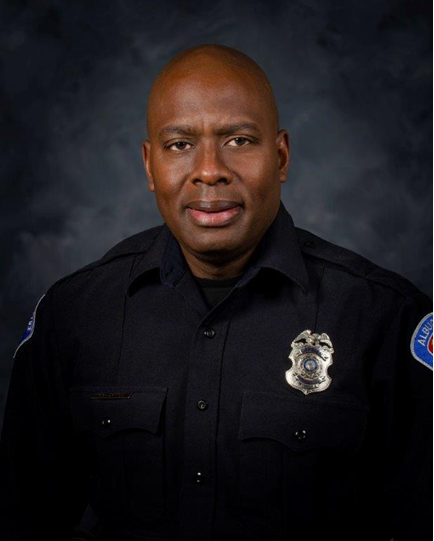 Officer Rob Duren
African American Community Ambassador
Hello my name is Rob Duren and I am a member of the APD Ambassador Program. I have been with the Albuquerque Police Department since March of 1989. My current duty assignment is an instructor at the police academy with the Advanced Training Unit. I moved to Albuquerque in 1984 from Los Angeles, CA.
Officer Travis Coburn
Senior Citizen Community Ambassador
I am originally from Chicago Illinois. In February of 2010 I joined the United States Air Force and later moved to Albuquerque in August of 2010 after I was stationed to Kirtland AFB. While in the Air Force I worked as a Security Forces member, and was able to completed my Associates Degree in Criminal Justice through the "Community College of the Air Force." I separated from the Air Force in February of 2014 and began my career with the Albuquerque Police department in October of 2014. I later completed my Bachelors Degree in Criminal Justice through "Lewis University" in 2015. I have now been a member of APD for approximately 7 years and plan to retire here in 2039. When I do get some free time I enjoy working out, watching movies, and spending time with my family.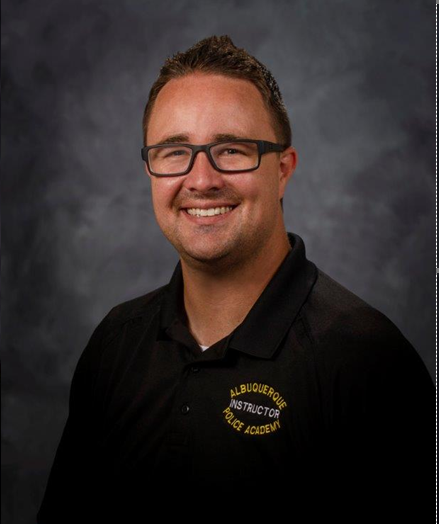 Officer Jeffrey Bludworth
Learn More