OSVC: Past Gallery Shows
Information about past gallery shows at the Open Space Visitor Center.
Jewel Cases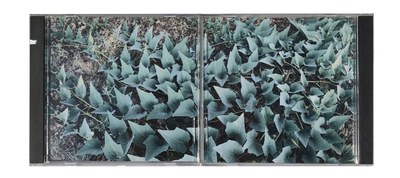 Presented by George Julian Dworin
January 15 

- 

April 2, 2022

Jewel Cases celebrates Albuquerque's incredible wilderness-urban interface and chronicles one man's daily explorations and the gems found on the way. As a composite, this piece is about looking up, looking down, looking long, and looking in. It is about vitality, about pausing, about quiet, about joy, about curiosity and learning. And ultimately, it is about sharing and creating connectedness.
---
Thoughts on the Rio Grande in Photographs and Haiku
Presented by Clarke Conde
January 22, 2022 - April 9, 2022
This series explores the great river and its surroundings as it passes through an ever-expanding city of Albuquerque, where the needs of its people compete with the needs of the plants and animals that rely on its waters for life itself.

The Rio Grande
Developed beyond pristine
Pristine beyond use

Through photographs bound to haiku, we immerse ourselves in the river as it passes through, leaving us with its past as we give it our future. This is not a critical look; no one is shamed, rather we simply take a moment to reflect on where we are in this place.
Bio

Clarke Condé is a photographer who believes the process of thinking in haiku guides his lens towards a vision of nature that is more ordered and reflective than it would be with a camera alone. A professional photographer for over 30 years, Condé has published and shown his photographs widely, as well as his haiku, but rarely together. He lives in Albuquerque.
Find more of his work at Condephotography.com.
New Mexico Landscapes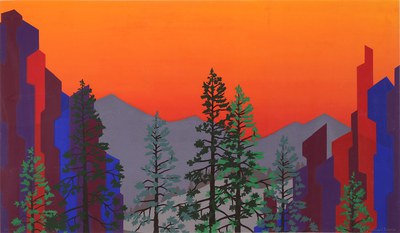 Jun 19, 2021

- 

Sep 18, 2021
Presented by Gwen Entz Peterson
Working predominantly with serigraphy (also known as silkscreen) since 1973, Gwen Entz Peterson has worked on image sizes up to 4 feet as well as very small pieces.  Her editions are small.  The body of her work is predominantly contemporary landscape, but sometimes also totally abstract.  The hard edges, brilliant colors and close color tones lend themselves well to a contemporary look with definite abstract aspects.  Design and color always play important roles in her work as she strives to show the diverse beauty of the Southwest with its large skies, mesas, mountains, and canyons.  Occasionally for a change of pace  a pastel finds its way into her output, as that can be completed in a short amount of time as compared to the lengthy process involved with a serigraph.
---
Let's Meet in the Middle
A Collaborative Synthesis of Nature & Art
presented by P.K. Williams, Rebecca Nolda, Kate Palmo, Jennette Cook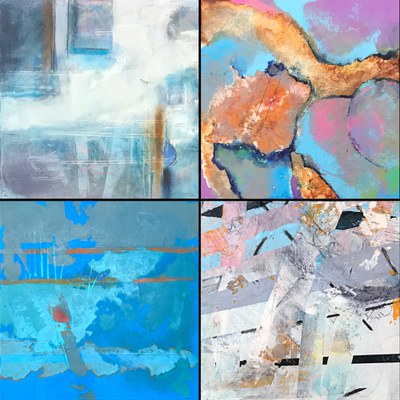 May 8, 2021 - July 17, 2021
Whatever is happening in the world there are two things we can count on: the beauty of nature and the value of friendship and connection. The four of us appreciate the beauty that surrounds us here in New Mexico, especially around the bosque.
In this exhibit we express that admiration through abstract expressionism. Our work is unique in the fact that we have chosen to combine several of our pieces. As artists, we each have our own way of interpreting the natural world and this leads to exciting combinations of work as well as exciting conversations between friends. We hope what we created in our little community of four encourages discussion from the community of viewers who visit the Open Space Visitor Center.
- P.K. Williams, Rebecca Nolda, Kate Palmo, Jennette Cook
---
Small in Nature
presented by Chadwick Williams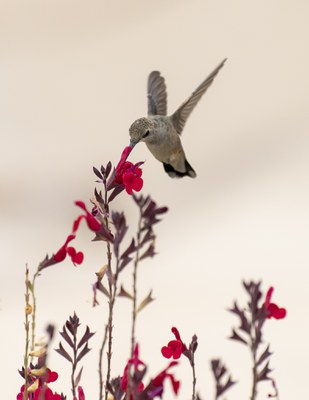 April 21, 2021 - July 3, 2021
West Gallery
New Mexico based nature and landscape photographer specializing in large format printed macrophotography. Focused on native species to the Rio Grande valley.
---
Aimless Wandering: Exploration without Destination. A practice of Mindfulness
presented by Alice Webb and Margo Geist
April 17, 2021 - June 12, 2021 East Gallery
 In our fast-paced, goal-oriented world, it's tempting to find the shortest possible route between one point and another, to stay the course and achieve a goal. Even when walking in the wilderness of our New Mexican bosques, this is often what we do. Yet there are times we're called to wander, out into the beyond, between paths. To pay attention - to arrive, pause, and depart - with each footstep. Such embodied meandering sharpens our senses. As our awareness and perceptions heighten, so too, our appreciation of the immensity of natural resources. Creativity emerges and lingers here. This two-person exhibit arises from mutual respect of the possibilities of exchange between self and the phenomenal world. The sensory information Alice gathers on these aimless wanderings, and the walks along the path, travel with her back to the studio where her perceptions are interpreted into shape and color. In this exhibit, her abstract works are inspired by natural forms. While her oil paintings and mixed media pieces reflect her personal wanderings in the bosque, they are also meant to encourage others to become environmental stewards by being more aware and knowledgeable about Open Space's natural landscapes. - Alice Webb and Margo Geist

---
Corvid Conversations presented by Christopher Bull
January 30, 2021 - April 10, 2021
This work is reflective of a long-standing fascination for crows. They are intelligent and adaptive, thriving in rural as well as urban areas. Crow is also a powerful totem or spirit animal. Living in the void outside of time, crow is said to see past, present and future. These paintings are also a response to the time we are in: the pandemic and resultant isolation. The space around the crows is as much the subject as are the crows. Each painting is a conversation with you, the viewer. I hope you enjoy them.
- Christopher Bull
---
Atmospheric Proximity presented by Timothy L. Meehan
January 30, 2021 - April 10, 2021
From a connection to the earth, sky, and waters,
which are powered by the life force of the sun
working towards a personal interior peace
creating an expression that emerges in approximate symmetry
executed   obliterated   excavated
 - T. Meehan


---

Crane Music presented by Lauris Phillips
October 31, 2020 - January 28, 2021

Lauris Phillips will be presenting Crane Music, an exhibit of her paintings of Sandhill Cranes, in the West gallery. She works in both Japanese ink (sumi) and watercolors made from found materials. Her work is grounded in the simplicity and energy of Japanese Sumi-e (ink painting), and in her personal work with the Greater Sandhill Cranes at the Modoc National Wildlife Refuge.
---
Ruminations on a Bosque Murmuration presented by Sandria Cook
October 3, 2020 - November 22, 2020

An installation reflecting the changing bosque. 
---
After the Fire presented by Elyse Barkin
September 5, 2020 - October 24, 2020

A new media digital photography exhibit, honoring the heart of the Bosque after the Romero Fire burned through the area in 2012. Barkin's digital art uses technology as a part of the creative process. Her photographs are layered with texture and color to create her final piece. Contact E Barkin at [email protected] if you would like more information about her art.

---
LIGHTSCAPE presented by Luna Project
July 11, 2020 - Sep 27, 2020

12 artists present 2d work, pottery, hanging sculpture, and book arts
A lightscape is an illuminated environment, a lighting arrangement that picks out some details
and obscures others. The natural landscape of Albuquerque's Open Spaces captures the
expansive quality, the intimacy and the clarity of light that has attracted artists to New Mexico
for centuries. In this exhibition, the Luna Project artist explore the natural and transformative
dimensions of the lightscape that illuminates our real and imagined open spaces.
---
Fire and Spirits
Presented by Carol Chamberland
July 11 - August 30, 2020
An art exhibit Celebrating the natural landscapes of Central New Mexico. Contact Carol Chamberland for more information about her work.
---