OSVC: Current Gallery Shows
The OSVC hosts several art shows per year. These are the current shows by New Mexico artists.
Current Exhibits
Ongoing throughout the Visitor Center
If you have visited the OSVC and have noticed artwork in the niches, window sills, and other areas of the building then you have seen the work by Lynette Rizek! She graciously fills the spaces with her creative work for visitors to enjoy. The artwork rotates as the seasons change so each visit may bring new surprises and art to see. The OSVC is grateful for her ongoing support. 
About Lynette:
My North Valley roots run deep—hundreds of years on my mother's side and decades of my own life. I stroll the dappled ditches, collecting overlooked treasures—a twisted stick here, a glass shard there. I take this bounty back to my studio and transform it into small wonders that reflect today's tastes.
Exhibits depict the creative process of an artist/collector/transformer. As you peruse the specimens on display, hopefully you are inspired is to reflect on what you have done—the bits and pieces of lives past and present you have touched. Be daring, experiment, recycle, reinvent, pushing ideas and projects to reality.
-Lynette
---
New Mexico Landscapes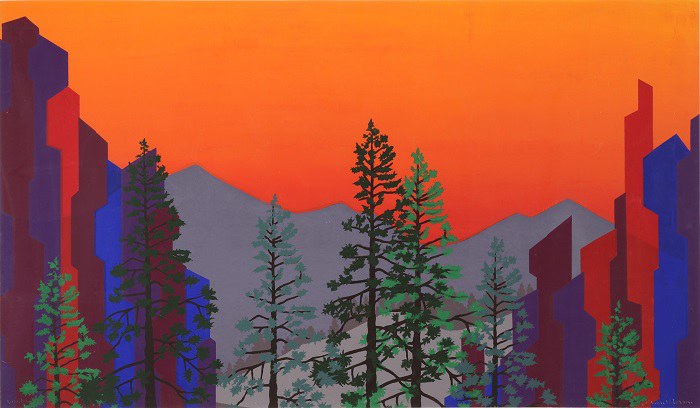 Jun 19, 2021

- 

Sep 18, 2021
Presented by Gwen Entz Peterson
Working predominantly with serigraphy (also known as silkscreen) since 1973, Gwen Entz Peterson has worked on image sizes up to 4 feet as well as very small pieces.  Her editions are small.  The body of her work is predominantly contemporary landscape, but sometimes also totally abstract.  The hard edges, brilliant colors and close color tones lend themselves well to a contemporary look with definite abstract aspects.  Design and color always play important roles in her work as she strives to show the diverse beauty of the Southwest with its large skies, mesas, mountains, and canyons.  Occasionally for a change of pace  a pastel finds its way into her output, as that can be completed in a short amount of time as compared to the lengthy process involved with a serigraph.