OSVC: Current Gallery Shows
The OSVC hosts several art shows per year. These are the current shows by New Mexico artists.
Current Exhibits
Ongoing throughout the Visitor Center
If you have visited the OSVC and have noticed artwork in the niches, window sills, and other areas of the building then you have seen the work by Lynette Rizek! She graciously fills the spaces with her creative work for visitors to enjoy. The artwork rotates as the seasons change so each visit may bring new surprises and art to see. The OSVC is grateful for her ongoing support. 
About Lynette:
My North Valley roots run deep—hundreds of years on my mother's side and decades of my own life. I stroll the dappled ditches, collecting overlooked treasures—a twisted stick here, a glass shard there. I take this bounty back to my studio and transform it into small wonders that reflect today's tastes.
Exhibits depict the creative process of an artist/collector/transformer. As you peruse the specimens on display, hopefully you are inspired is to reflect on what you have done—the bits and pieces of lives past and present you have touched. Be daring, experiment, recycle, reinvent, pushing ideas and projects to reality.
-Lynette
---
Let's Meet in the Middle
A Collaborative Synthesis of Nature & Art
presented by P.K. Williams, Rebecca Nolda, Kate Palmo, Jennette Cook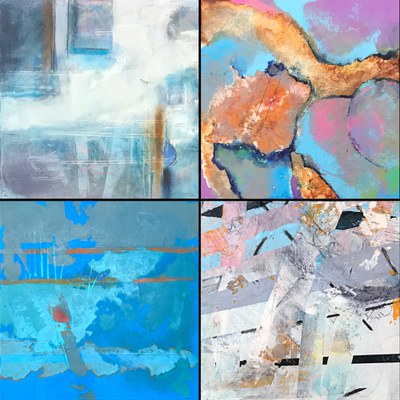 May 8, 2021 - July 17, 2021
Whatever is happening in the world there are two things we can count on: the beauty of nature and the value of friendship and connection. The four of us appreciate the beauty that surrounds us here in New Mexico, especially around the bosque.
In this exhibit we express that admiration through abstract expressionism. Our work is unique in the fact that we have chosen to combine several of our pieces. As artists, we each have our own way of interpreting the natural world and this leads to exciting combinations of work as well as exciting conversations between friends. We hope what we created in our little community of four encourages discussion from the community of viewers who visit the Open Space Visitor Center.
- P.K. Williams, Rebecca Nolda, Kate Palmo, Jennette Cook
---
Aimless Wandering:
Exploration without Destination. A practice of Mindfulness
presented by Alice Webb and Margo Geist

April 17, 2021 - June 12, 2021
East Gallery
In our fast-paced, goal-oriented world, it's tempting to find the shortest possible route between one point and another, to stay the course and achieve a goal. Even when walking in the wilderness of our New Mexican bosques, this is often what we do. Yet there are times we're called to wander, out into the beyond, between paths. To pay attention - to arrive, pause, and depart - with each footstep. Such embodied meandering sharpens our senses. As our awareness and perceptions heighten, so too, our appreciation of the immensity of natural resources. Creativity emerges and lingers here.
This two-person exhibit arises from mutual respect of the possibilities of exchange between self and the phenomenal world. The sensory information Alice gathers on these aimless wanderings, and the walks along the path, travel with her back to the studio where her perceptions are interpreted into shape and color. In this exhibit, her abstract works are inspired by natural forms. While her oil paintings and mixed media pieces reflect her personal wanderings in the bosque, they are also meant to encourage others to become environmental stewards by being more aware and knowledgeable about Open Space's natural landscapes.
- Alice Webb and Margo Geist
---
Small in Nature
presented by Chadwick Williams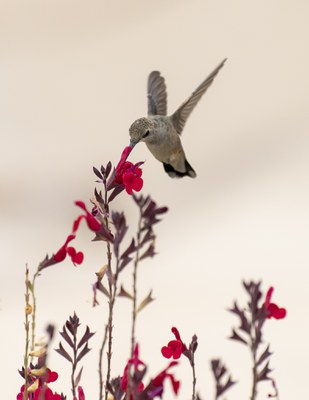 April 21, 2021 - July 3, 2021
West Gallery
New Mexico based nature and landscape photographer specializing in large format printed macrophotography. Focused on native species to the Rio Grande valley.