It Takes a Village Mentorship Grants
Grant Funding Given for Mentorship
It Takes a Village is a grant program of the City of Albuquerque Office of Equity and Inclusion that brings together community-based organizations who mentor Black and at-risk youth within Bernalillo County. These organizations match youth with mentees and engage in activities that support their healthy development, such as African "Rites of Passage" activities, referrals to services that assist with educational, social and health interventions and positive adult-youth relationships. The Office of Equity and Inclusion will coordinate and monitor the achievement of program objectives through youth-serving organizations who receive a grant.
Grant Check Pickups took place Thursday December 23rd, 2021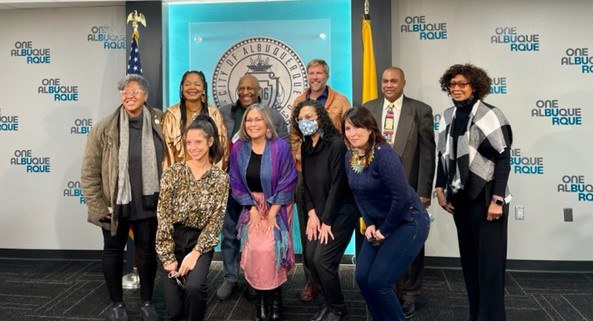 KRQE - City Distributes $200k in grants to help vulnerable Communities
KRQE - Community Mentor Network helping at-risk youth succeed
ITAV Grant Recipients 
| Grant Awardee | Award Amount (based on # of mentees) |
| --- | --- |
| African American Museum and Cultural Center of New Mexico | $6,550 |
| | $7,860 |
| Explora | $10,000 |
| UNM African American Student Services | $6,550 |
| | $6,550 |
| Together for Brothers | $4,585 |
| United Voices for Newcomer Rights | $10,000 |
| Vizionz-Sankofa | $7,860 |
| Women In Leadership | $6,550 |
| World Restoration Church | $6,550 |
Grant Eligibility
Must be a non-profit organization or have a fiscal sponsor.
Offer mentorship to Black youth in middle or high school.
Must be physically located within Bernalillo County and serve clientele that are from Bernalillo County.
Funds must be deposited into a business bank account and only be used for expenses related to the mentorship program.
Recipients may be required to assist in the development of a report on the impact of this grant program.
No more than 15% of funds can be spent on in-direct costs.
Required Documents
Applicants must have submitted the following required documents with application.
Evidence of non-profit status
Mentorship Program description
Supporting documents that are helpful in demonstrating how the organization operates the mentorship program