About the Black Community
African American Population Demographics in Albuquerque
Albuquerque's Black communities' have long contributed to the city's rich cultural fabric. According to the 2020 decennial Census, there are 16,649 Black residents in the City of Albuquerque and 21,562 Black residents that live in the Albuquerque Metro Area (2020 Decennial data, US Census Bureau).
The New Mexico African American Complete Count Committee chaired by Nichole Rogers and Beverly Jordan worked in 2020 statewide with many community partners and faith leaders to ensure Black communities were counted. The unified effort of so many contributed to a significant population increase for the African American community here in Albuquerque and in places like Las Cruces, Hobbs, Clovis and La Mesa, New Mexico. Learn more about the data specific to the growth of Black communities in New Mexico.
Population Density
It is important to note that Black communities have been historically undercounted in the decennial census, disadvantaging our families, communities, and neighborhoods. In fact, the 2010 Census undercounted nearly 1 million Black residents in the U.S. (Pew Research Center, 2020). Approximately seven percent of young Black children were overlooked by the 2010 Census, roughly twice the rate for young non-Hispanic White children. Additionally, Black men have been historically undercounted in greater numbers than men of other racial or ethnic groups. Today, more than one in three Black residents live in hard-to-count areas like New Mexico.
The map below illustrates population clusters of Black residents per census tract within the City of Albuquerque. The dots are placed on a spectrum. The darker the dot, the higher the population density of Black residents. The map demonstrates that Black residents are located across the entire city. There are some population clusters that are denser in the southeastern and south-central parts of Albuquerque, as well as census tracts just below Balloon Fiesta park that have high Black population counts.  Click on Map to zoom in on a specific neighborhood.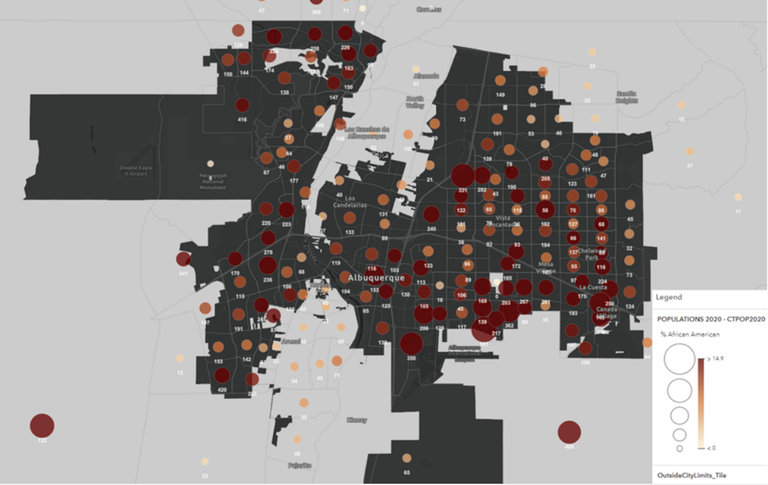 City of Albuquerque Workforce Inclusion
With more than 5,500 employees, the City of Albuquerque municipal government is one of the largest employers in the city and a source of good-paying jobs with benefits. A municipal government is better able to serve a diverse community when its workforce is broadly representative of its population demographics. Below we examine the representation of African American employees in the City's municipal workforce.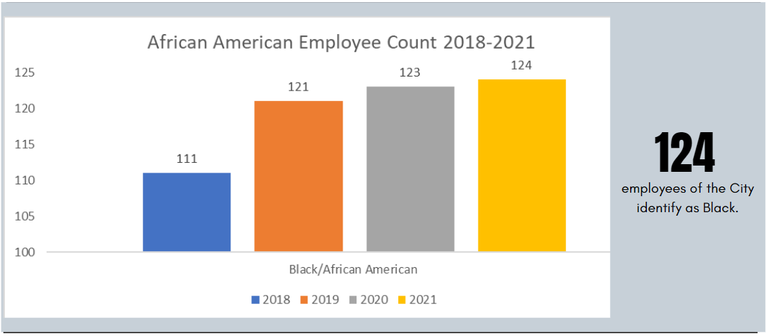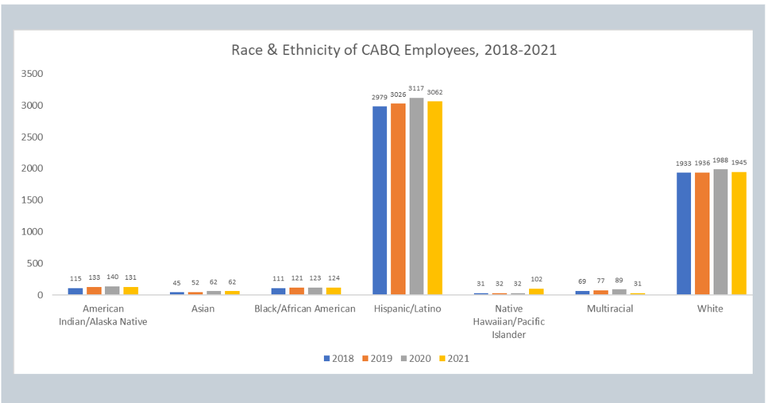 The graph above compares employee counts of all race and ethnicity groups within the City of Albuquerque municipal workforce from 2018-2021. The data demonstrates that though the number of Black/African American employees has remained stable, Black people are a minority population within the City's workforce. Also evident is a consistent jump in the number of employees from 2018 to 2019 for all race/ethnicities except for White. City departments with the greatest number of African American employees include Police (29), Fire (17), Solid Waste (11) and Technology & Innovation Department (10).
Based on these data, setting clear goals and measurable objectives toward increasing the number of Black employees will be added as a priority area during strategic planning. This priority includes creating a support network among Black City employees so they feel connected and supported in their departments.
Other Data Available
The Well-Being of Black Children in New Mexico
Median Household Income for African Americans in New Mexico by Census Tracts, 2018