Storm Drainage Design
Provides a well-maintained transportation network for the traveling public and maintains storm drainage systems to ensure the safe transport and disposal of storm water runoff.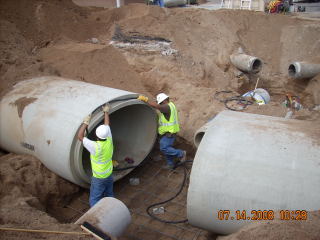 The responsibility of the Storm Drainage Design Section of the Engineering Division is to improve the effectiveness of the storm drainage system within the City of Albuquerque and to safeguard the quality of the storm water runoff discharging into the Rio Grande.
Storm Drainage Design also provides guidance and training to local engineers, planners and contractors in the planning and implementation of storm water quality control measures for construction projects installed within the City of Albuquerque.
Reports
Storm Water Analysis
The "City of Albuquerque Antibiotic Resistance Analysis of Contamination in Storm Water" [See Text of the Analysis [3.4 mb]; See Maps [4.7 mb]; See Appendices [2.36 mb] report relates to Bacterial Source Tracking (BST) of Albuquerque's storm water. The BST methodology is used to determine the sources of fecal bacteria in environmental samples (e.g. from human, livestock, or wildlife origins). BST is also called fecal source tracking and/or fecal typing.
As part of our draft Municipal Separate Storm Sewer Permit (MS4) with the U.S. Environmental Protection Agency there is on-going storm water quality sampling. The sampling is done by the United States Geological Survey (USGS) at locations throughout Albuquerque to test the storm water quality that discharges to the Rio Grande (see MS4 Storm Water Quality Sampling USGS Fact Sheet [794k]).
This is done as a joint effort with the Albuquerque Metropolitan Arroyo Flood Control Authority (AMAFCA) , New Mexico Department of Transportation (NMDOT), University of New Mexico, and the City of Albuquerque .