Gateway Manager Dr. Azka Naru
Information about Gateway Manager Dr. Azka Naru.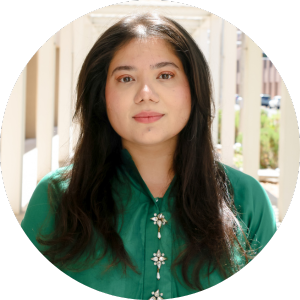 Gateway Manager Dr. Azka Naru
Dr. Azka Naru is a pharmacist by training and has her Master's in Public Health from UNM with a major in Health Systems Services and Policy. Having lived in the Albuquerque community for over a decade, Dr. Naru brings to the City her medical professional and public health management background, previously working for the New Mexico Department of Health and then the Human Services Department. She served as one of the operational leads in the statewide COVID medical sheltering and feeding response. Dr. Naru led operations in providing over 2 million meals to people throughout the state and helped to support our tribal communities, working with all 23 nations and directly providing more than 2.5 million pounds of food. Dr. Naru also set up and oversaw medical shelters throughout the state and in close collaboration with the City of Albuquerque, providing more than 47,000 nights of medical shelter. During the 2022 wildfires in northern New Mexico, Dr. Naru served as the state emergency management lead. Dr. Naru has longstanding experience providing services rooted in the city, which she now brings to the Gateway Center to care for the unhoused and alleviate homelessness in the community.