Short Term Rental FAQ
Frequently asked questions about Short Term Rentals.
General Contact Information
Questions about the STR Permit website, setting up an account, or getting an activation code:

[email protected]

or 888-751-1911
Questions about how to submit for a STR permit or a pending STR permit:

[email protected]

Questions about business registration:

[email protected]

 
Questions about remitting and or reporting Lodgers Taxes and Hospitality Fees:

[email protected]
Frequently Asked Questions (FAQ's)
Neighbor to Short Term Rental FAQ's
Why do I have to get a Short-Term Rental (STR) permit?
In response to concerns from the community about Short Term Rentals (STR), a task force was established to make recommendations for the operation of STRs in Albuquerque. The task force recommended that a permit for STRs be established. For more details, visit the STR website.
What does the STR permit require, and how much does it cost?
A business registration;
A floor plan;
An acknowledgment that the owner and operator will comply with all applicable City ordinances;
A "Good Neighbor Agreement" that will be posted inside each unit to inform guests of applicable City Ordinances (like noise, litter, parking);
A limitation on overnight STR occupancy to 2 adults (over 12 years old) per bedroom, plus 2;
Required provision of proof of short term rental insurance;
A limit gatherings to two times the maximum overnight occupancy, but no more than 20; and
A requirement for gatherings of more than the overnight occupancy to disperse by 10:00pm local time
The permit comes with a fee of $120 (first year) and an annual renewal fee of $90 (second and following years).
What is the expected turnaround time to process a permit once I've submitted my application?
Once an account is opened on the STR permitting website, an STR permit applicant can submit their application materials over a period of time. Once the application has all of the materials submitted, a permit is usually approved in 5-7 business days.
Do I need to get a business registration and do I need to get a Tax ID # from the State before registering?
Yes. The STR permit requires a business registration, which requires a Tax ID from the state. You can start your STR permit concurrently with your business registration application.
How can I obtain a CRS # for my business registration?
You can obtain a CRS# through New Mexico Taxation & Revenue Department https://www.tax.newmexico.gov/Businesses
How do I go about finding the account number and activation code for a property in order to apply for a permit?
Munirevs assigns the account numbers and activation codes. Contact [email protected] with the property address.
I have multiple properties. Do I need multiple user accounts?
No, you can combine multiple permits into one user account. However, you do need a permit for each property/ unit, see below.
Do I need more than one STR permit if I have multiple units?
Yes, you need an STR permit for each unit you are renting, even if they are at the same location. The STR ordinance defines a unit as one or more rooms with a kitchen.
Is the insurance provided by Airbnb or VRBO sufficient?
Yes, however, you will need separate coverage for any other providers you utilize that do not provide insurance.
How is the maximum overnight occupancy calculated?
The maximum overnight occupancy is 2 people per bedroom plus a general allowance of two. This recognizes the potential use of a pull-out couch. For example, the maximum overnight occupancy for a two-bedroom unit is 6 people.  An overnight occupant is a person over 12 years old.
If I usually rent my unit longer than 29 days, but occasionally rent it for less than 29 days, do I need an STR permit?
Yes, you need an STR permit for any unit rented for 29 days or less.
How technical does my floor plan have to be?
The floor plans may be hand drawn or created digitally, but they must be drawn to scale.
I pay my lodging taxes and hospitality fees via AirBnB and or VRBO, do I also need to report this?
Yes, even though your taxes and fees are remitted via AirBnb and/ or VRBO, you will still need to report every month by the 25th for the previous month using the tax form illustrated below. You will need to fill in the following amounts for the lines highlighted in yellow: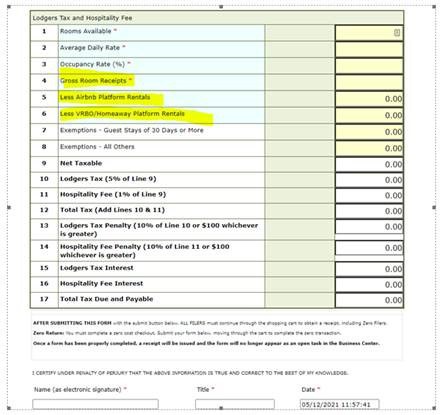 If you have questions, please email [email protected]
How do I report a problem with a STR property?
If you have a problematic property in your neighborhood that you believe is an STR, you can report it the 24-hour STR hotline at 505-465-7710. The hotline will contact the STR operator and Code Enforcement.
I think my neighbor is operating an unregistered STR, how do I report the property?
You can report an unregistered STR to the 24-hour STR hotline at 505-465-7710. The hotline will check whether the STR is registered. If the STR is registered and there are concerns about the property, the hotline will reach out to the STR operator to address the concerns. If the property is not a registered STR, the hotline will contact Code Enforcement to begin communications with the property owner.
How can I find out if a home in my neighborhood is a Short-Term Rental?
A list of Short-Term Rentals is not available to the public for security reasons.