Safe Outdoor Spaces FAQ
Frequently asked questions regarding Safe Outdoor Spaces.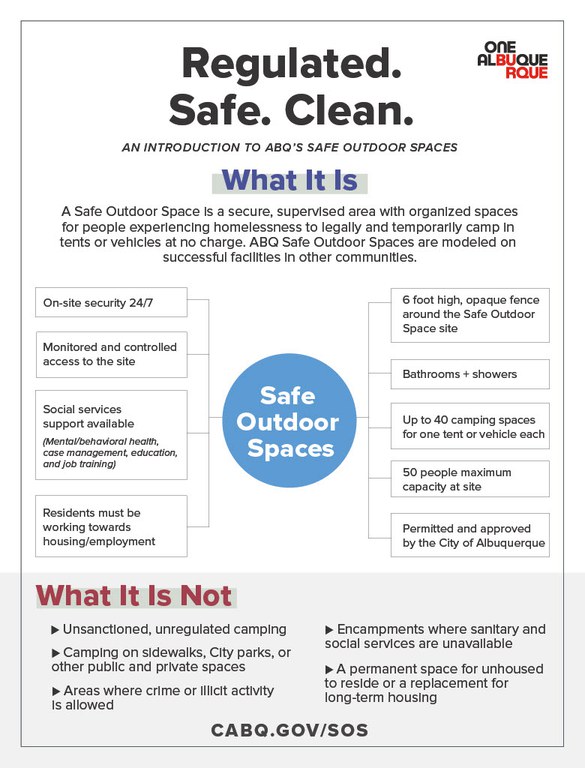 The City Council adopted rules related to a new land use in the Integrated Development Ordinance (IDO) called Safe Outdoor Spaces. The rules related to Safe Outdoor Spaces will go into effect July 28, 2022.
This FAQ page is not comprehensive of all rules related to Safe Outdoor Spaces. Please see the Integrated Development Ordinance for full rules at https://abc-zone.com.
For further questions related to zoning regulations for safe outdoor spaces, please contact Council Planning Manager Shanna Schultz at [email protected]
FAQ
Note: An asterisk (*) indicates a regulation that religious institutions are exempted from pursuant to the Religious Land Use and Institutionalized Persons Act.
What is a Safe Outdoor Space (SOS)?
A SOS is a lot, or a portion of a lot, developed to provide designated spaces for occupancy by tents, recreational vehicles, and/or light vehicles. Designated spaces are provided to occupants at no charge. A safe outdoor space offers social services and support facilities.
Are Safe Outdoor Spaces (SOS) permanent?  
*SOS may operate for a period of 24-months. The SOS may receive one 24-month extension to continue operations. After a total of 48-months the SOS must cease for a period of six months.
Where can a Safe Outdoor Space (SOS) be located?
Please see this map for an interactive zoning map that shows zoning of all parcels in the City.
*SOS is a conditional use in the MX-T, MX-L, MX-M, and MX-H zone districts. A Conditional Use requires approval from the Zoning Hearing Examiner after a public hearing to consider the request.
SOS is permissive in the NR-C, NR-BP, NR-LM, and NR-GM zone districts.
SOS is prohibited adjacent to Major Public Open Space
*SOS is prohibited within 330 feet from any property zoned R-A, R-1, R-MC, or R-T that contains low-density residential development (e.g. single-family homes, manufactured home communities, cluster development, cottage development, duplexes, townhouses, and live-work units.
Is there a map of where a Safe Outdoor Space (SOS) can be located?
* This map shows parcels that have the correct zoning district and meet the distance separation requirements from the previous question.
Tan parcels = Conditional Use
Red parcels = Permissive Use
Note: This map does not depict where SOS are planned to go but does show they could go if a property owner chooses to request approval to use their property for an SOS.
How many Safe Outdoor Spaces (SOS) can be in each City Council district?
*There can be a maximum of 2 SOS in each City Council district.
Can Safe Outdoor Spaces (SOS) only be done by a governmental agency?  
There is no requirement that an SOS be managed by a governmental entity, and there is no requirement that an SOS occur only on government property.
How many people can stay in a Safe Outdoor Space (SOS)?
There may be 40 designated spaces in an SOS with a maximum occupancy of 50 people. Each designated space can accommodate one tent, or one recreational vehicle, or one light vehicle.
Are bathrooms required? 
Bathrooms, hand-washing stations, and showers are required in any Safe Outdoor Space.
Is management or security required?
An operations and management or security agreement must be included with the application for a Safe Outdoor Space. The plan or agreement must indicate there will be on-site support 24 hours a day, 7 days a week. The operations and management plan is reviewed by The City's Department of Family and Community Services.
Are social services required?
Safe Outdoor Spaces are required to offer services and support facilities, such as  showers, education and job training, storage space for residents' belongings, recreational services, facilities, and activities.
Is Coronado Park a Safe Outdoor Space (SOS)?
Coronado Park is not a SOS. It does not have the proper zoning approvals and does not meet the Use Specific Standards in the IDO for Safe Outdoor Spaces.
Will Safe Outdoor Spaces be rescinded?
There is a bill (O-22-33) that will be introduced by the City Council on August 1st that proposes to remove Safe Outdoor Spaces from the IDO. After introduction by the Council, the proposal will be considered by the Environmental Planning Commission, which  will provide a recommendation back to the full City Council for consideration. This process will take several months.
Please see this page for all documentation related to land use controls the City Council considered for Safe Outdoor Spaces.