Albuquerque Fire Rescue Implements New Bush Truck on Albuquerque's West Side
City Councilor Cynthia Borrego used set-aside funds to purchase new brush truck.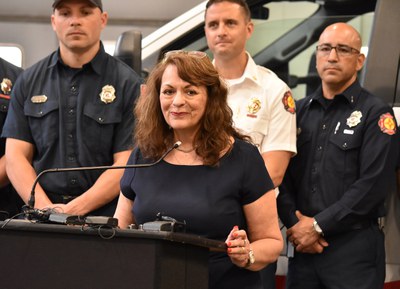 Albuquerque Fire Rescues Wildland Division will add a 5th, wildland station to the division. Station 22 is located on Albuquerque's west side at Paradise Blvd and Unser. The 18 personnel assigned to this station will be trained in advanced wildland firefighting to respond to wildland fires in open spaces around the ABQ Metro area. A new brush fire truck was funded by District 5 City Councilor Cynthia D. Borrego at a cost of $154,000. Councilor Borrego purchased $9,375 worth of equipment for the truck.  AFR purchased additional equipment for the truck using funds earned from their heroic efforts fighting wildland fires at different places in the United States during the 2018 fire season as mobilized under the New Mexico Resource Mobilization Plan. "It is important that this type of facility be equipped with the right equipment to deal with our Bosque. It's important that the fire department have the right equipment to eliminate wild fires. Public safety is important to Albuquerque" says City Councilor Cynthia Borrego. City Councilor Cynthia Borrego has been tremendous in helping AFR.
Fire Chief Paul Dow commented on the addition of the new brush truck to the fleet, "This new brush truck is essential; it gives us another station where we have Wildland capabilities. We now have a brush truck that can respond to the West Mesa and the North side of the Bosque as well".   
Beginning this Saturday Albuquerque Fire Rescue will begin Open Space Patrols. These patrols will cover the 29,000 acres of open space lands around the city, to encompass the Foothills, West Mesa and Bosque. Patrols will increase ten days before the 4th, of July and will continue until we see continuous moisture and the threat of wildfires is reduced. Despite recent rain, Albuquerque Fire Rescue takes seriously the threat of wildfires. Albuquerque and surrounding areas are beginning to dry out and will be primed for extreme fire conditions soon.