12th and Menaul / Former Albuquerque Indian School Site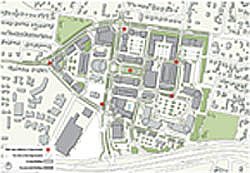 12th and Menaul Study Recommendations by HOK represents the planning, design, and transportation recommendations for the area surrounding the intersection of 12th Street NW and Menaul Blvd., including the former Indian School site. This document was prepared for the City of Albuquerque by HOK Planning Group and Hall Planning & Engineering, Inc. Significant public participation by neighborhood residents, property owners, and other stakeholders was involved.
Those interested in reviewing the adopted regulations related to the Indian School site should contact the City of Albuquerque Planning Department.
Former Albuquerque Indian School Site Adopted Legislation
The planning work conducted led to the following legislation adopted by the City Council.