Legislative Authority for the Welfare of the People of Albuquerque
The City Council is the legislative authority of the city. It has the power to adopt all ordinances, resolutions, or other legislation conducive to the welfare of the people of the city. The Council is made up of nine members, elected on staggered terms, with four or five districted Councilors elected every two years.
Submit Public Comments for December 7, 2020 City Council Meeting
City Council Office Front Desk is Closed. Click For More Information. 
View a list of current Councilors│Find out what district you're in│Contact all Councilors
What's New
Meetings, Agendas & Legislation
Council Information
Public Improvement Districts
Latest News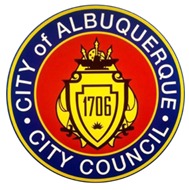 Below is a list of planning-related items that will be heard at full Council or LUPZ in the coming weeks.
Letter from VACCPC Secretary Richard Deichsel
Efforts underway to create a Bee City USA designation for Albuquerque.