Summer Baby Updates
Wolf pups and hyena cubs are growing up.
August 6, 2020 - There are two growing families at the Zoo. Learn more about how the Zoo's newest hyena cubs and wolf pups are doing.
Wolves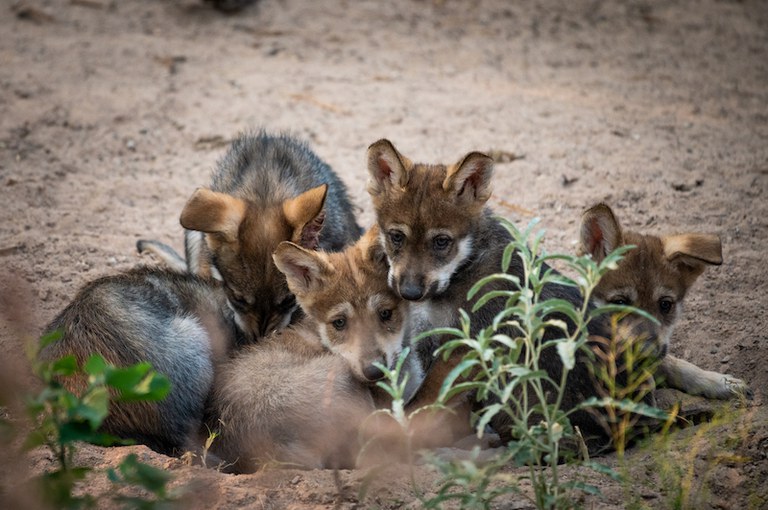 It's five boys and two girls! The Mexican gray wolf pups that Kawi and Ryder welcomed in May had their second check up and booster vaccines in late July. (ABOVE: Lobo pups, courtesy of the New Mexico BioPark Society.)
This is Kawi and Ryder's second litter and the pups have been keeping everyone extremely busy, say keepers, who add that their parents and big brother Archer are doing a great job looking out for them.
Carnivore Supervisor Toni Esparza says the little lobos "spend their time play wrestling, nipping and biting each other"—though this may look a lot like what domesticated dog puppies do, they are developing and learning important life skills. Staff is enjoying watching Archer learn skills that he'll one day use with his own family by helping raise his little brothers and sisters.
Hyenas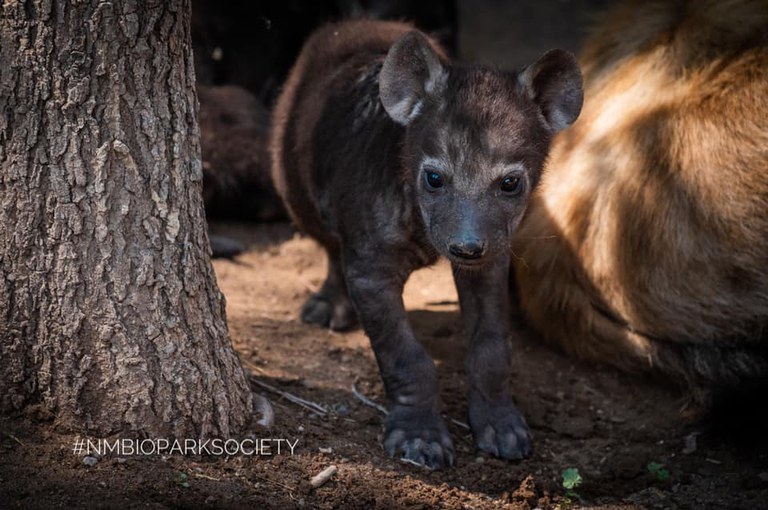 The spotted hyena cubs, born in late April to mom Smilla and dad Dubu, have officially been named Kijani and Pili ('green' and 'chili' in Swahili ). (ABOVE: Hyena cub, courtesy of the New Mexico BioPark Society.)
The pair is doing great, according to keepers, and have reached one of their growth milestones by beginning to develop their spots. The two have had their first three sets of vaccines. Zoo staff do not yet know their sex because male and female hyenas look the same from the outside. Female hyenas have what is known as a "pseudopenis," making it difficult to determine gender without the help of a blood genetic test!
According to keepers, the two cubs have become quite independent as they grow up. It's been a joy for staff to watch the cubs' individual personalities emerge and to see their confidence grow as they get comfortable exploring outside with their mother. The cubs were recently introduced to their dad Dubu and now the whole family clan is together. The cubs are keeping busy this summer interacting with enrichment and playing in the new pool in their habitat!