ABQ BioPark Expands Partnership with Valle de Oro National Wildlife Refuge
Browse donation program will benefit Zoo's giraffes, promote native habitat at Valle de Oro.
August 15, 2022 - The ABQ BioPark is growing its relationship with Valle de Oro National Wildlife Refuge to help curb the growth of a problem tree species while also feeding the Zoo's giraffes.
Valle de Oro is donating tree limbs from the invasive Siberian elm as "browse"—or food—for the ABQ BioPark's giraffe herd. This is an expansion of an existing partnership between the BioPark and Valle de Oro that has previously provided browse to the elephant herd.
Valle de Oro, located in Albuquerque's South Valley, aims to promote native habitat, according to Kaitlin Murphy, Ancestral Lands Conservation Corps (ALCC) individual placement biological technician at the refuge. Siberian elms are "undesirable" there, she says. "It's not native to this region so we're just trying to gradually fade it out."
The partnership came about when Lisa Moore, ABQ BioPark senior hoofstock keeper, visited Valle de Oro on a bird tour in April. She spotted some elms during the tour and reached out to Valle de Oro staff about a possible partnership.
"I think that it is a great way for the BioPark to connect with our community and a local organization like the refuge," Moore said. "I am a big advocate for bringing our community in, and I thought that this was a good way to start."
Charisa Bell, biological science technician at Valle de Oro, said the project is a good fit because the refuge aims to partner as much as possible with the local community.
"We try our best to provide things to the community before we just flat out throw things away, so it's been nice to be able to be like, 'oh there are giraffes that need elm and we don't need them,'" she said. "We also have the program where we chip some of our elms and then we provide mulch for the South Valley community just for free through a permit. (This is) another opportunity for us to provide for our community, and that's one of our top goals at the refuge."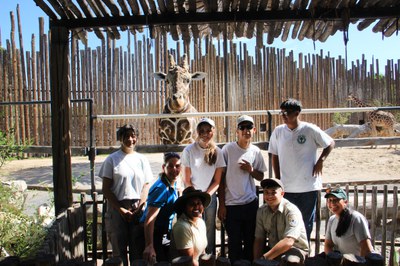 Several Valle de Oro staff and members of their Youth Conservation Corps (YCC) visited the Zoo on July 26 to meet the giraffe herd as a thank you for the refuge's collaboration. Dakota Dominguez, youth employment coordinator at Valle de Oro, said the visit was a great way for youth in the program to explore different programs and employment opportunities.
"I thought that this was a great opportunity, so now they get to come here, and we've already met two people who work here at the BioPark who had experience in YCC prior," he said. "So this is yet another way for these guys to just explore careers and see different connections in the community and opportunities."
In addition to Valle de Oro, the BioPark also teams up with several other local groups to secure browse for the giraffe herd. This includes the Rio Grande Nature Center and a local tree farm. In addition, the elephant team has collaborated with the Middle Rio Grande Conservancy and PNM.
"Our giraffe herd goes through so much elm that we have found several places where we can go to cut but we've been depleting that," Moore said. "So in order to allow that to replenish, it was great finding Valle de Oro and finding that they have a need for their resource to be utilized in a different way. We hope to maintain this partnership so that it helps the ancestral lands and it helps out our giraffe herd."