Discover the BioPark
Discover the BioPark is our new and exciting education program for schools and community groups.
Bring the BioPark directly into your classroom or home. The BioPark is happy to announce that we are offering virtual field trips for students of all ages! The Discover the BioPark Virtual Field Trips focus on habitats, animal adaptations and life science biological concepts. Programs are available Tuesday-Friday.
Programs are 30 minutes long and will be done over Zoom or Google Meet. All programs include education staff interactions, inquiry-based learning, animal encounters and interaction with your students or families. Teachers will receive additional materials to go over with their students to help enhance and strengthen their overall learning experience. While these programs were designed for traditional classroom learning, they can be incorporated by a variety of groups who have an interest in learning more about environmental science such as scouts, youth groups, clubs, etc.
Programs are $50 each and can be done over one login if all participants are in the same space, or multiple logins if participants are distance learning. Logins are limited to traditional classroom size. Programs can be booked using HoldMyTicket: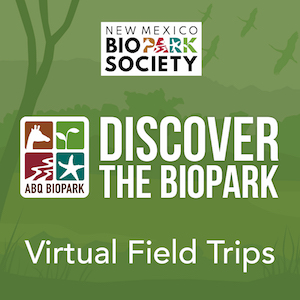 ---
Please note that the options below are currently on hold due to Covid-19, but we look forward to offering them again in the future.
Programs include on-grounds field trips, classroom programs and community events. They feature live animals, hands-on activities and professional staff interactions.
Schedule a program at the Zoo, Botanic Garden, Aquarium or Tingley Beach. Or let us come to you!
Field Trips School-Based Programs Booth Options
Field Trips
Coming to the BioPark?
Due to our reduced occupancy and other health-related directives, we are currently unable to schedule Field Trips. These opportunities are planned to resume in the coming weeks and this site will be updated when they become available.
Staff will lead your group through your choice of adventures at the Zoo, Aquarium, Botanic Garden or Tingley Beach.
The following staff-led adventures (listed below) will be custom designed for your age group and size. Options include ambassador animals, discovery stations and a selection of animal exhibit tours. Access to some animals is weather dependent.
Each field trip includes Our Actions Matter conservation messaging. Please contact us for suggestions on the best field trip options for your group.
Zoo
Africa—Learn about life cycles, endangered species, family structures and ecosystems.
Wild Cats and Their Prey—Explore the big cats at the BioPark. Students investigate predator/prey relationships and discover the different hunting techniques of wild cats.
Conservation Heroes—Learn the role of zoos in protecting endangered and threatened animals. Discover what species the BioPark is helping to save and meet some of our conservation heroes. The BioPark engages in many conservation efforts. Call for information on our current programs.
Penguins—Become a penguin research scientist! Explore where penguins live, what they eat and how they fit into their ecosystem. Compare and contrast our three newest bird inhabitants.
Aquarium
A Fish-Eat-Fish World—Discover animals and plants of the Aquarium and the role of each in the food web. Draw connections between different organisms and discover adaptations they have evolved for their diets.
Inspired by Nature—Discover bioinspiration (the process of using inspiration from nature to find solutions to human problems). Students investigate a problem and analyze how plants and animals in the Aquarium inspired a solution.
Ocean Locomotion—Investigate the adaptations animals have developed to move around and feed effectively in their environments.
Botanic Garden
Backyard Beneficiaries—Investigate the many pollinators of the Garden. Discover the habitat needs of these pollinators, the important role they play in an ecosystem and the conservation issues they face.
Heritage Farm—Learn where your food comes from. Students connect to how food is grown and the parts of the plant they eat. Meet a variety of farm animals and investigate how domesticated animals benefit humans.
Tingley Beach
Saving Our Bosque—Explore the Bosque through a guided nature hike. Discover the cottonwood forest and the Rio Grande. Learn about the plants and animals that make this area their home. This is a great way to get outdoors and experience one of our local treasures!
School-based Programs
Want us to come to you?
Programs run approximately 50 minutes and are easily adapted for location and grades. All programs are led by the ABQ BioPark's professional education staff and include live animals and Our Actions Matter conservation messaging. Please see our website for more details and for correlation to NM STEM Ready! Science Standards.
Saving Our Bosque (PreK-2)
Discover the animals and habitat of the Rio Grande Bosque. Determine what makes New Mexico's river systems unique.
How Do I Grow? (Grades 3-5)
Use live animals and biological artifacts to model the life cycles of diverse species. Students discover the similarities and differences in the life cycles of different species.
Web of Life (Grades 3-5)
Simulate African grassland food webs and model their vulnerabilities to human impacts. Compare healthy systems to damaged systems.
Survival Specialists (Grades 6-8)
Investigate how and why organisms have unique adaptations. Determine what makes them and us "survival specialists."
Reproduction of the Fittest (Grades 6-8)
Explore the effectiveness of each organism's reproductive strategies. Students will lead a discussion on how these strategies can be affected by human activity.
Group Survival (Grades 9-12)
Discover the advantages of living in groups or living as individuals. Students investigate African animals, and discuss conservation issues and potential solutions.
Booth Options
Not a school?
Would a booth better fit with your community needs? Here are some options for a staff-led table at community events and spaces. Each booth is filled with live animals, biofacts, activities and Our Actions Matter conservation messaging. Booths are designed for all ages to stop by and visit. The theming of each booth is similar to the school program or field trip of the same name.
Saving Our Bosque
How Do I Grow?
Reproduction of the Fittest
Group Survival
Wild Cats and Their Prey
Backyard Beneficiaries
In order to ensure the quality and sustainability of this program, we charge a small fee.
Partial funding for Discover the BioPark programming comes from various grants and sponsorships. Please call for pricing details or scholarships in your area.
For more information, please contact:
Albuquerque BioPark
School and Youth Programs
www.abqbiopark.com/discover