Dictators and the Disappeared: Democracy Lost and Restored
On view at the Albuquerque Museum June 24, 2023-February 11, 2024. Artists, publishers, and citizens reacted to the rise and imposition of military dictatorships in southern South America in the late 20th century, and how they fought to restore democracy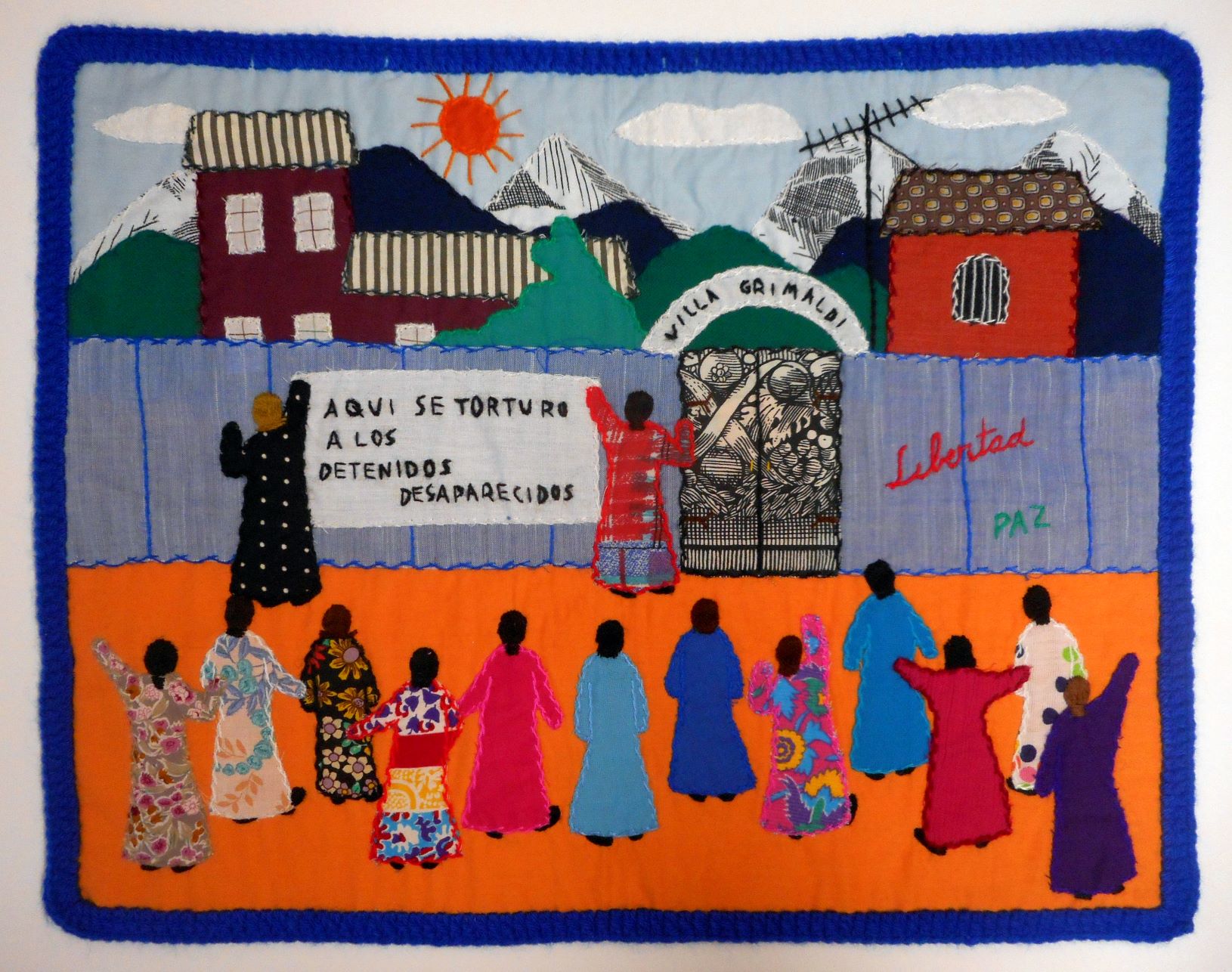 Unidentified artist, Villa Grimaldi: aquí se torturó a los detenidos desaparecidos (Villa Grimaldi: Here the Detained and Disappeared were Tortured), Chile, ca. 1983, cotton appliqué panel, 15 x 19 in., Chile Ephemera Collection (PICT 2012-011(3)-0002), CSWR, University Libraries, University of New Mexico.
---
On view June 24, 2023 – February 11, 2024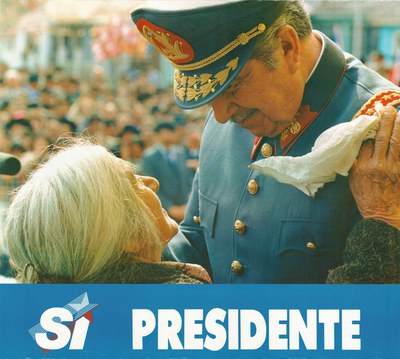 Unidentified artist, Sí Presidente ([Vote] Yes President [Pinochet]), Chile, 1988, offset lithograph, 21 x 23 1/2 in., Sam L. Slick Collection of Latin American & Iberian Posters (Chile, Drawer 34, Folder Miscellaneous), CSWR, University Libraries, University of New Mexico.
Additional support is provided by the City of Albuquerque Department of Arts & Culture and the Albuquerque Museum Foundation. 
What can happen when democracy breaks down? Democracies are fragile, and they rest on certain consensual beliefs and understandings which need constant reinforcement.
The exhibition will document the breakdown of democratic government and the imposition of military dictatorships in the South American countries of Chile, Argentina, Uruguay, and Bolivia during the 1960s, '70s, and '80s. It will also explore how people across the globe fought to restore democracy in these areas. The exhibition draws heavily on the rich resources available at the Center for Southwest Research at the University of New Mexico, featuring brightly colored patchwork textiles, posters, and other political ephemera from across Latin America.
The exhibit opens shortly before the 50th anniversary of the coup d'état in Chile that toppled Chile's democratically-elected Socialist government and ushered in seventeen years of brutal dictatorship and repression. The regime of terror instituted by Chile's military junta, led by General Augusto Pinochet, was also evidenced across the Southern Cone (Argentina, Uruguay, Paraguay, Chile, and Bolivia). Military dictatorship was also imposed in Brazil in 1964 and lasted two decades. In time, protests and struggles built in these countries against dictatorial rule. Agitation for the restoration of constitutional democracy grew incrementally, supported by local, regional, hemispheric, and international organizations, solidarity groups, and persons in exile. By 1990, when Chile began its transition back to democracy, all of the region's countries had—in varying degrees—repudiated the military-authoritarian model.
Moreover, while the assault on democratic institutions across the Southern Cone was particular to a time and place, the underlying story is not. In recent years, the world has experienced a broad resurgence of authoritarianism and dismantling of the rule of law. The exhibit thus holds particular relevance for our time.
This exhibit was co-curated by Russ Davidson and Leslie Kim for the Albuquerque Museum.
Details subject to change.