Transit And Bueno Foods Recognize Drivers Who Participate in City's Read to Me Book Program
Bueno Celebrating 68th Anniversary with Book and Food Donations
Since 2005, ABQ RIDE has been placing books on its buses to promote child literacy among its riders. Along the way, the Read to Me program has had several major partners within and outside the city. On Monday, May 20, 2019, one huge partner stepped up to show city bus drivers appreciation for participating with the program.
Bueno Foods passed out breakfast burritos and individual packets of its GRANDMA's® Tortillas to ABQ RIDE's fixed route drivers at Transit's Yale (601 Yale SE) facility today. Fixed route drivers at Transit's Daytona Facility across town also got the same treats. This gesture is just one way Bueno is celebrating its 68th anniversary of doing business in New Mexico.
"For us, reading is first and foremost a joy. But more importantly, literacy is a building block of economic self-sufficiency," says Jacqueline Baca, President of Bueno Foods. "Helping the Read to Me program get even more books into the hands of children is important to us as we commemorate 68 years in the community."
Bueno Foods also provided 500 bilingual children's picture books to the Read to Me program to distribute to all City buses. Benito's Bizcochitos, published by Arte Publico Press of the University of Houston, is one of four children's picture books written by one of the owners of Bueno Foods, Ana Baca.
The Read to Me program just finished its annual book drive, which yielded over 40,000 books. They were distributed primarily to ABQ RIDE buses and also to Title 1 schools, clinics, community centers and the New Mexico Rail Runner.  Since its inception, the program has distributed more than 500,000 children's books. The organization supports early childhood learning and manages a massive volunteer collaborative effort. 
"The bus drivers are the real heroes," says Dave Orner, Director of the Read to Me program. "They regularly stock the books in the book racks on the city buses so that children and adults alike have access to them."
"The Read to Me program has been making a difference in children's lives for two decades," said Mayor Tim Keller. "Programs like this depend on partnerships, and so many different people have stepped up over the years to make this possible, and strong community support like this helps us make a difference and build a brighter future."
Bueno Foods is also handing out free packages of tortillas at area restaurants and grocery stores during the lunch hour on May 20. 
For more information on the Read to Me book dive or to donate books, call 505-681-6325.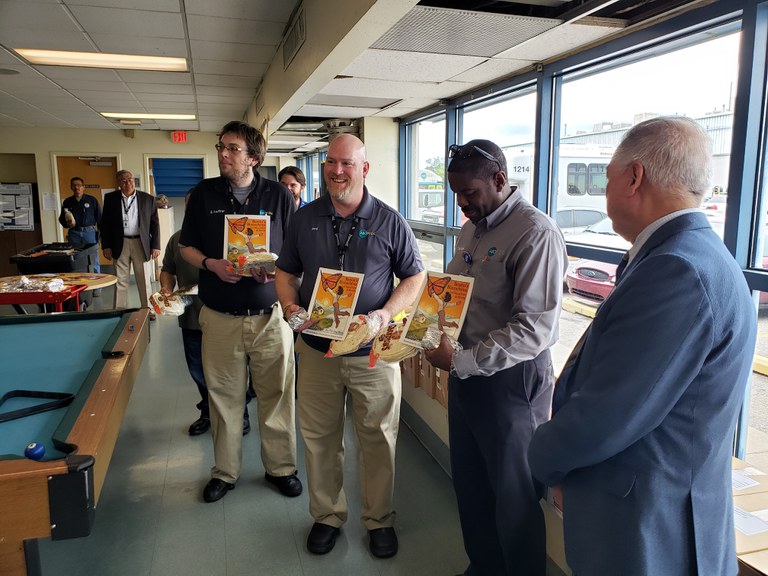 ABQ RIDE bus drivers, along with a gift of burritos, a package of Bueno tortillas and a copy of the children's book, Benito's Bizcochitos.