Local Landscape Architecture Firm is Latest Recipient of Storefront Activation Grant
Funds will help Pland Collaborative renovate and expand downtown presence
ALBUQUERQUE – The Metropolitan Redevelopment Agency (MRA) continues to invest in local businesses and the downtown environment through the Storefront Activation Grant Program, which aims to revitalize and promote growth in the core of our city. . Pland Collaborative (formally MRWM), a local landscape architecture firm committed to enhancing the outdoor spaces of our city, will receive $50,000 of funding from the program to help renovate and expand its downtown presence.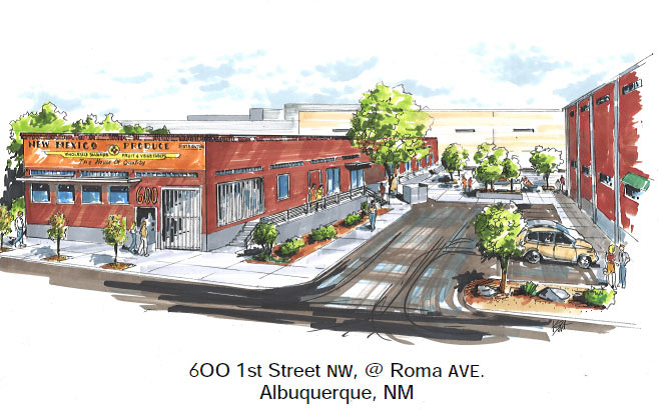 "We plan to use the grant funds to assist with lease payments for our new space which will allow us to free up additional funds to grow our business," said Pland Collaborative Marketing Director, Noreen Kramme. "Since we've been at the new location at 600 1st Street, we've seen an increase in employee morale and productivity which has allowed us to hire two new employees."
Pland Collaborative is renovating 5,076 square feet for their new offices, including development of their Rail Trail-facing patio plaza, a move that aligns with the city's vision for a thriving and dynamic urban core.
"Local businesses like Pland Collaborative are the key to our efforts to invest in and transform the heart of our city into a lively, safe place," said Mayor Tim Keller. "With this grant program, and the opportunities it creates, we can help breathe new life into downtown and welcome more workers, residents, and families to the core."
"Our Storefront Activation Grant Program is a unique incentive offered by our department to support local businesses and create pathways for them to grow," said MRA Director Terry Brunner. "Downtown Albuquerque is on track to becoming one of our city's most vibrant destinations, and we encourage more local businesses to be a part of the transformation."
The Downtown Storefront Activation program is designed to support thriving urban districts, with goals to attract established businesses with an existing customer base; improve safety by increasing foot traffic to new businesses; decrease the number of vacant commercial spaces in Downtown Albuquerque; and create an attractive physical environment with well-designed and engaging storefronts. There are more recipients in the final stages of the process. Applications are still being accepted!
More details on the application process can be found at cabq.gov/storefront. For questions, email [email protected] or call 505-810-7502.