Downtown Housing Development Moves Forward
6-story housing development and neighborhood café part of "Downtowner" project
November 30, 2022
ALBUQUERQUE – Today, the Albuquerque Development Commission (ADC) recommended that the City Council approve both a Development & Disposition Agreement and a Redevelopment Tax Abatement Application for "The Downtowner" project on 1st and Silver.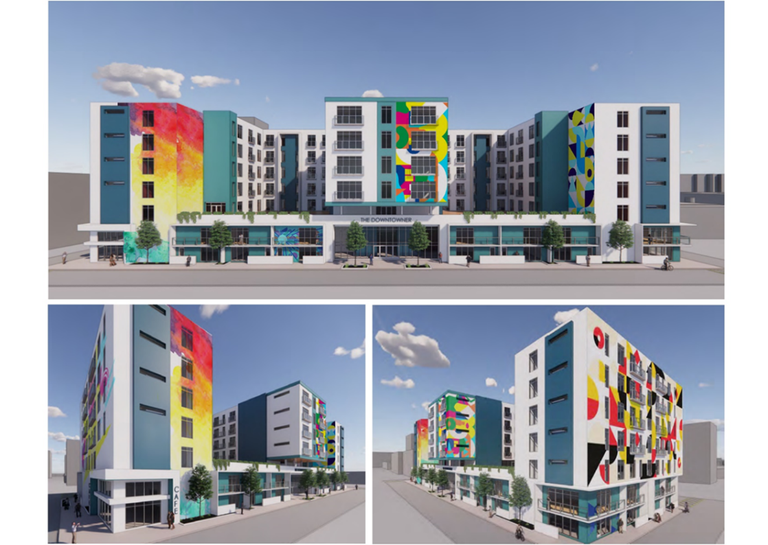 Conceptual Renderings (Color Palate Not Finalized)
The project is a public-private partnership between the Metropolitan Redevelopment Agency (MRA) and REMBE Urban Design + Development that would bring 207 new units of housing, 11 additional live-work units, and a neighborhood café to Downtown Albuquerque.
"I have always been a firm believer that all great cities have great downtowns. The more units we can provide, the more people to support our wonderful local downtown businesses and restaurants," said Jay Rembe, CEO of REMBE Urban Design + Development. "Not only will these studios support our awesome artist community but it is important for these spaces to be activated day and night. These urban dense multistory buildings are extremely complicated and expensive and if it were not for the city incentives, this building could not be built."
"Albuquerque is facing a critical need for more housing units to accommodate the existing and future housing demand at all income levels," said Mayor Tim Keller. "The Downtowner will bring an influx of development to our downtown core, increasing street-level activity and creating a safer environment."
"The Downtowner furthers our downtown revitalization goals by contributing to a walkable and vibrant downtown district," said Terry Brunner, Director of the Metropolitan Redevelopment Agency.
Pending City Council approval, the project is projected to break ground in late 2023 and anticipated to be completed in late 2025.