Mayor Keller Provides Updates on Albuquerque's Support for Veterans
Announces retired Colonel Donnie Quintana, former NM Secretary of Veteran's Affairs, joins City as CIP Official.
In remarks at the Veterans Day Ceremony, Mayor Tim Keller shared updates on the work that city government and its partners are doing to support and honor Albuquerque's veterans.
A directory of resources for Albuquerque veterans can be found online at the Mayor's Veterans Resource Center. The Mayor's 81 year old father, Veteran and resident of Albuquerque, joined the Mayor for the Veterans Day festivities.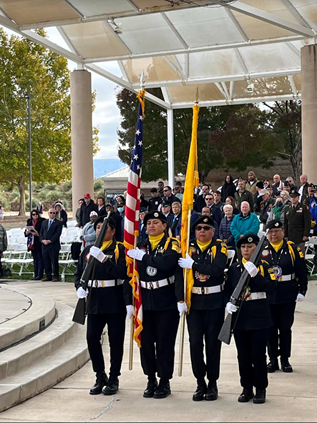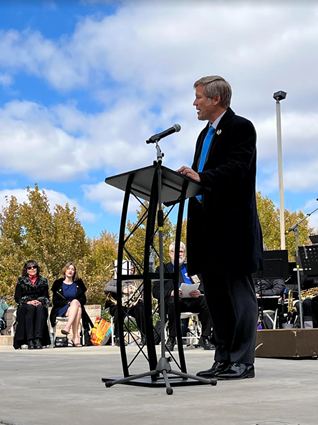 One of the City's priorities is to help create housing solutions for veterans. In March, the Veteran's Integration Center (VIC) broke ground, with $1 million in support from the City for the land acquisition. The campus, set to open next spring, will provide transitional housing with on-site substance and mental health treatment services. The City is also aiming to provide services to veterans experiencing homelessness at the Gateway Center by exploring moving the VA's homeless outreach division there. 
As was promised at last year's Veteran's Day celebration, the decommissioned USS Albuquerque nuclear submarine is now back home in Albuquerque. Read more about the USS Albuquerque project.
Mayor Keller also announced that Retired Colonel Donnie Quintana, who formerly served as the Secretary of Veteran's Affairs for the State of New Mexico, has joined the City of Albuquerque as the Capital Implementation Program (CIP) Official. Mayor expressed his gratitude for having Donnie's Veteran leadership helping run the city.
"Our community came together today to honor the work and sacrifice of America's veterans, and reflect on their service. We owe them a debt that we cannot ever repay, but it is our duty to strive each day to give back and ensure that our veterans are receiving the benefits they have earned and the support they and their families may need," said Mayor Keller.
The City continues its work to connect veterans to city government with the Office of Military and Veterans Affairs that Mayor Keller launched in 2022. Hiring veterans for City positions is a priority, with veterans receiving guaranteed interview for jobs and preference on bids for city contracts. The City is also a registered VA work-study site. Various City facilities like libraries, animal shelters, and multi-gen centers offer programming or perks for veterans.
Moving forward, the City is looking to provide "Military and Veteran Cultural Training" to non-veteran employees to help them gain a better understanding and relationship with their veteran peers.
Together with partners including the Veterans Memorial Foundation, the United Veterans Council of Greater Albuquerque, and the Roadrunner Convoy, the Office of Military and Veterans Affairs organized this year's Veterans Day Ceremony and parade, expanding programing to include more opportunities for youth and families to join the ceremony and honor New Mexico's veterans.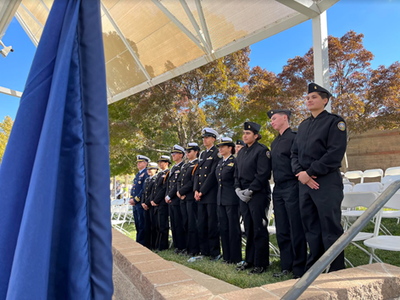 About Mr. Donnie Quintana, CIP Official for the City of Albuquerque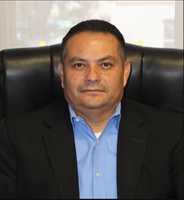 Mr. Quintana spent over 35 years in the military and has several decades of public service experience. He most recently served as the Secretary of Veteran's Affairs for the State of New Mexico. Quintana worked as the Local Government Division Director for the State Department of Finance and Administration and in various roles at the State Economic Development Department. He was instrumental in creating the Emergency Rental Assistance Program that distributed over $200 million to families across New Mexico. Quintana has held numerous leadership positions in the New Mexico National Guard, including Brigade Commander and Chief of Staff. He served as the Executive Officer and Corps Commander Senior Mentor for the Afghan National Army in Operation Enduring Freedom. Quintana is a New Mexico State University graduate.