Updated: Job growth at a ten year high in Albuquerque
Jobs growth continues in Albuquerque according to new data from the U.S. Bureau of Labor Statistics.
ALBUQUERQUE, N.M. – Data released late last week by the U.S. Bureau of Labor Statistics and compiled in the City's Economic Dashboard for September 2018 show Albuquerque continues to see job growth and a decrease in unemployment. Total jobs in the Albuquerque metro area for September 2018 were 400,100, which marks a ten year high. The Albuquerque Metro area grew by 9,000 jobs, or 2.3 percent from September 2017 to September 2018. This was higher than the 1.7 percent growth for the U.S. and was in line with regional peers.
"The job trends we're seeing in Albuquerque are very encouraging," said Mayor Tim Keller. "We are focused every day on creating an economy that works for everyone and we are pleased to see those efforts reflected in these new numbers."
New Mexico saw the largest decline in unemployment in the country in September 2018, where it dropped by 1.4 percentage points from 6 percent in September 2017 to 4.6 percent. The U.S. unemployment rate was 3.7 percent in September 2018.
Both private sector and government sectors added jobs in September with 6,500 and 2,500 jobs, respectively. Professional and Business Services added the most jobs with 4,200 jobs, followed by State Government, which added 2,000 jobs. Construction added 1,500 jobs. Educational and Health Services shed 700 jobs compared to last year.
See peer and national average growth rates below: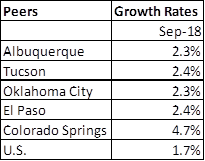 The city's economic dashboard includes information about job growth by sector, gross receipts tax distribution, and unemployment data. The full dashboard can be viewed at https://www.cabq.gov/economic-dashboard.