Homeless Services
The Family and Community Services Department is a key player in the City's effort to end homelessness. Our services include prevention, outreach, shelter, housing programs, and supportive services.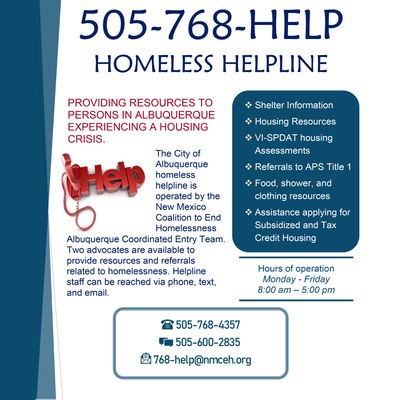 Homelessness is a harsh reality in Albuquerque and we've outlined a multi-faceted approach to try and help as many of our unhoused neighbors as possible. Our approach factors in emergency shelter, transitional housing, and more. In collaboration with our community partners, we're addressing immediate needs while working to build Albuquerque's first centrally located, 24/7, year-round homeless shelter.
Call 505-768-HELP(4357) for rental assistance, legal service, and to apply for housing programs.
Click on a topic below to learn more about how we are addressing homelessness and how you can help.
What We Are Doing
Homeless Help
How to Help
Gateway Center
Encampments
Safe Outdoor Spaces
---
What We are Doing
We are increasing emergency shelter options and adding transitional housing because housing is key. Housing allows folks to focus on other needs like finding employment, obtaining quality childcare, and taking care of physical and mental health.
Under Mayor Keller's leadership, the City, along with community partners, has strengthened the overall system of care for people who are unhoused. The City, in collaboration with community partners, has:
coordinated street outreach to people living in public spaces
converted the Westside Emergency Housing Center to a year-round shelter, doubling the number of year-round shelter beds available
increased annual investment in supportive housing by 44% since FY18
invested $10 million in the Workforce Housing Trust Fund to create new, high-quality housing for lower and moderate-income Albuquerque residents
launched a new $21.4 million emergency rental assistance program (ERAP) to keep people housed who are in danger of being evicted. Learn more on our Eviction Prevention page.
View More Family & Community Services News
The City of Albuquerque supports extensive research into homelessness in Albuquerque. Read more on our Homelessness Prevention Page. 
---
Homeless Help
Call 505-768-HELP(4357) for rental assistance, legal service, and to apply for housing programs.
The Department of Family and Community Services partners with the New Mexico Coalition to End Homelessness (NMCEH) to operate the 505-768-HELP (4357) Helpline, to assist people experiencing a housing crisis to remain housed or exit homelessness quickly by connecting them to resources such as rental assistance and legal services or conduct the necessary assessment to register unhoused callers into the Coordinated Entry System to apply for supportive housing programs.
---
How to Help
Donate to the OneABQ Housing Fund
Donate by clicking above or at any Wells Fargo Bank
Get Involved
Follow Family & Community Services on social media
Follow Albuquerque Community Safety on Social Media
---
Gateway Center
The City acquired the Gibson Medical Center in April 2021 and renamed it the Gibson Health Hub. The campus hosts existing tenants providing medical, behavioral health, and vocational services. The City's Gateway project will add additional health resources for the community as well as centrally located emergency overnight beds and supportive services to connect people with the help they need on their pathway to housing. View Information About the Gateway Center
---
Encampments
How to Report
Encampments within city limits can be reported to 311. A member of the City outreach team will visit the reported site to address the encampment and offer resources.
Read the City of Albuquerque Encampment policy, revised October 2022. 
---
Safe Outdoor Spaces
A SOS is a lot, or a portion of a lot, developed to provide designated spaces for occupancy by tents, recreational vehicles, and/or light vehicles. Designated spaces are provided to occupants at no charge. A safe outdoor space offers social services and support facilities. The Department of Family & Community Services reviews Operations / Management / Security Plans for proposed safe outdoor spaces, which is required for the application to the Planning Department.
Two Safe Outdoor Spaces are now open for vehicles
Westside Emergency Housing Center

20 Vehicles, up to 30 people
Call 

505-839-9193 to reserve a space

Albuquerque Opportunity Center

12 Vehicles
Call 505-344-4340 to reserve a space
---
New Mexico Coalition to End Homelessness
The City of Albuquerque is a member of the New Mexico Coalition to End Homelessness, which assists communities to create solutions to homelessness from prevention through permanent housing by using action, advocacy, and awareness.
The NMCEH also conducts the annual Point In Time count which is a census taken of the unhoused population on a single night in January. 
Email: [email protected]
Homeless support: 505-768-4368
Admin team: 505-982-9000
Visit the New Mexico Coalition to End Homelessness website.