City Expands Capacity of Alamosa Food Pantry
1,000 more boxes of food distributed to families thanks to enhanced space and operations.
November 24, 2021
Today, Mayor Tim Keller announced the City of Albuquerque is distributing 1,000 more boxes of food to families this year due to recently completed renovations at the Alamosa Food Pantry. This critical food pantry for the Westside, formerly operated out of a single classroom at the Alamosa Health & Social Service Center, was struggling to meet a growing community need as nearby non-profit food pantries closed down. Now, the remodeled space allows for significantly more storage capacity, a loading dock for deliveries, and a more streamlined process for sorting and distributing food.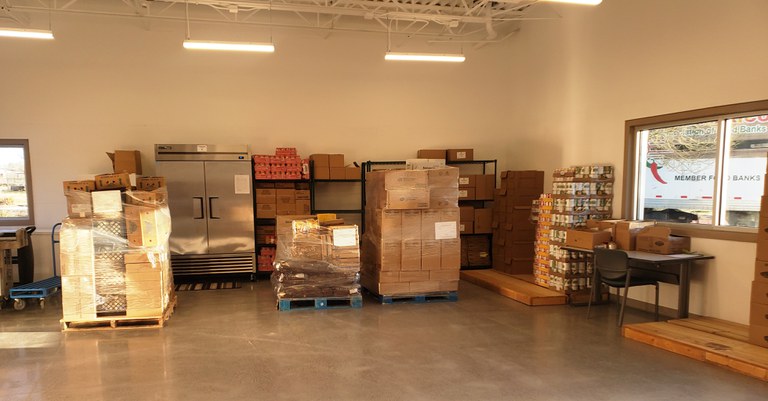 "Thanks to the work of the team at Alamosa food pantry and this expansion, we are able to help more Albuquerque families keep food on the table," said Mayor Tim Keller. "This new capacity makes a difference going into the holiday season and beyond as families get back on their feet in our recovery from the pandemic."
The Alamosa pantry is now able to provide between 325-350 food boxes per month to individuals and families. Before the construction of the new space, the Alamosa food pantry operated out of a classroom, which it had outgrown even before COVID. When the pandemic hit, Alamosa absorbed all of the demand for food pantry services on the city's Westside due to the closures of nearby church- and non-profit-run food pantries.
"The capacity expansion of the Alamosa Food Pantry is crucial for the families in our community," said Councilor Klarissa Peña. "We will now be able to help address community health disparities by ensuring that families have more food on their table."
"Prior to the expansion we were at capacity," said Division Manager Mayan Armijo. "Since the remodel was completed we have been able to provide food to more families. Demand for food boxes has gone up due to the pandemic, so this has a huge impact on our ability to reach the community."
The new space is designed to maximize efficiency and safety, which includes a drive-through service option. The new space features a loading dock, a critical logistical improvement for handling incoming food deliveries. Under the old system, trucks would unload their pallets in front of the service center and food would be carried in by hand, often requiring additional help from Solid Waste, Fire, and Parks and Recreation staff.
Alamosa is one of the City's four Health & Social Service centers serving people across the city, providing year-round food boxes, diapers, rental assistance, and health care services.
For more information about the Health and Social Services centers, call 311 or visit https://www.cabq.gov/family/services/health-social-services.
###