Indigenous Art, Culture, and Community
Works from the Ruth and Sidney Schultz Collection

Marcus Amerman (Choctaw), Buffalo Bill Cody with Pawnee and Lakota Men, ca. 2010s, glass beads on fabric, 9 3/8 × 26 7/8 in., gift of the estate of Ruth and Sidney Schultz
On view February 4–July 23, 2023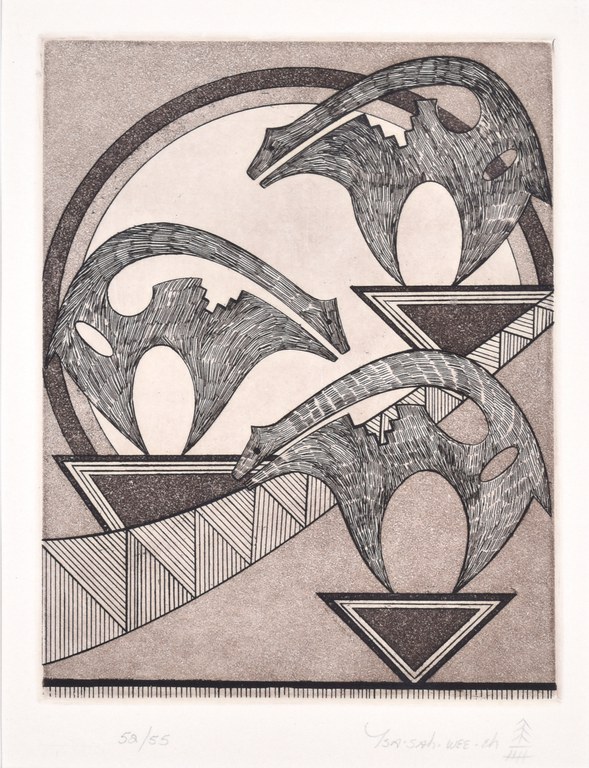 Helen Hardin (Santa Clara), The Healers, 1980, etching and aquatint on paper, ed. 52/55, 13 × 9 3/4 in. (sheet), gift of the estate of Ruth and Sidney Schultz.
Details subject to change.
This exhibition features ceramics, beadwork, prints, paintings, and other artwork produced by many award-winning Native American artists, most of whom have participated in Santa Fe's Indian Market. Indigenous Art, Culture, and Community explores how artistic creation at Indian Market has been the center of creative community building and how over the last century it has grown to include artists from Indigenous nations across the United States and Canada. Objects in this exhibition come from the collection of Ruth and Sidney Schultz and were recently donated to the Albuquerque Museum. For more than 50 years Ruth and Sidney attended and supported Indian Market and its artists in many ways. Indigenous Art, Culture, and Community includes over 50 works by over 35 artists including Jamie Okuma, Sandra Okuma, Charlene Holy Bear, Lonnie Vigil, Ben Harjo Jr. Chris Pappan, Teri Greeves, Marcus Amerman, Les Namingha, and many more.
Indian Market is a major annual event that takes place in Santa Fe each August. The market features approximately 1,000 Native artists from more than 200 Indigenous communities in the United States and Canada and brings around 100,000 people to Santa Fe. Indian Market is a bustling place that fosters both local community (often there are different generations of artist families selling alongside each other), as well as a global community – visitors from around the world attend each year. The exhibition presents topics central to Santa Fe's Indian Market — the market's history, jury and awards processes, and the importance of family and community. The exhibition also explores specific mediums such as ceramics and beadwork, works that depict the figure, and how artists integrate pop culture into their work.
Indigenous Art, Culture, and Community explores how artists are continually evolving their own artistic style while utilizing traditional materials and techniques. In the early days of Indian Market, artists were encouraged to maintain the traditional artistic styles of their own community. This exhibition demonstrates how tradition is constantly evolving with innovative contemporary works such as miniature pots and beaded Converse.
Indian Market has evolved and changed tremendously in its 100 year history. Originally organized by non-Native staff at the Museum of New Mexico and the School of American Research, today it is primarily facilitated by Native staff and board members. It is also the largest juried market of Native American artwork in the world. From tourists on the railroad to visitors to Indian Market today, the interaction between artist and visitor has been a crucial part of the continued success of the event. Indigenous Art, Culture, and Community is a celebration of the ongoing creativity, skill, and ingenuity of Native artists and the community that is created through Santa Fe's Indian Market.
This exhibit was curated by the Albuquerque Museum.