Common Ground: Art in New Mexico
On view at Albuquerque Museum. A bold installation of Albuquerque Museum's permanent art collection emphasizes real New Mexico.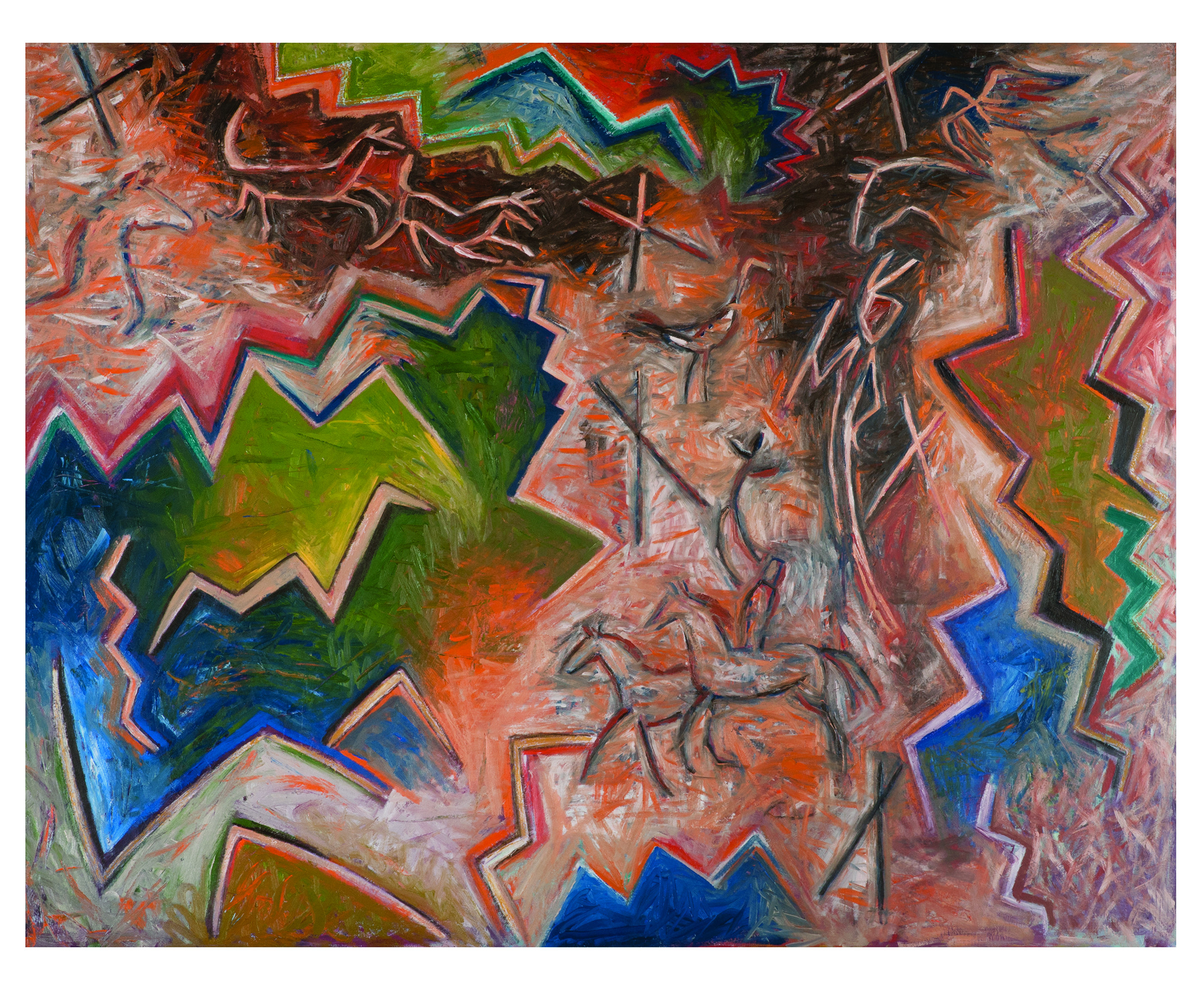 Jaune Quick-to-See Smith, born 1940 Flathead Reservation, Montana; lives Corrales, New Mexico, Herding, 1985, oil on canvas, 66 x 84 in., museum purchase, 1985 General Obligation Bonds, PC1986.98.1
On View Now
Georgia O'Keeffe, 1887 Sun Prairie, Wisconsin – 1986 Santa Fe, New Mexico, Gray Cross With Blue, 1929, oil on canvas, 36 x 24 x 1 in., museum purchase, 1983 & 1985 General Obligation Bonds, Frederick R. Weisman Foundation, Ovenwest Corporation, and the Albuquerque Museum Foundation, PC1985.50.1
Video: Common Ground Interview
In April 2016, Curator of Art Andrew Connors got up early to talk about the new installation of Common Ground on the Morning Brew. "New Mexico is a cross road for visual ideas," said Connors.
Exhibit Poetry
In January 2013, Albuquerque Poet Laureate Hakim Bellamy presented poems he had written based on artwork in the "Common Ground" exhibition.
Download the "Common Ground" poetry.
Common Ground celebrates the diverse creativity of artists living in or influenced by this region. Drawn from the Museum's permanent collection of almost 10,000 works of art, Common Ground includes masterworks by artists including Georgia O'Keeffe, Ernest Blumenschein, Raymond Jonson, Fritz Scholder, Luis Jimenez, Jaune Quick-to-See Smith, and Diego Romero.
Since the arrival of humans more than 13,000 years ago, New Mexico has been a center for artistic production and creativity.  No other place in the United States can celebrate such an important and continuous history of art making, from pre-history to the experiments of the current moment.  Art in New Mexico is characterized by celebration of tradition, innovation within heritage, and groundbreaking developments of new forms and ideas.  People of diverse cultures have lived together and influenced each other through the centuries.
Many museums make sense of this diversity by dividing cultures into more clearly identified groups.  However, humans do not always live in easily explained communities.  This is especially true in New Mexico.  The broad range of the permanent collection of the Albuquerque Museum reflects the opulent chaos of New Mexican artistry.  "Common Ground" presents this reality as it is lived by humans in this region, not easily segregated into categories, but provocatively combined to compare heritages.  These works of art illustrate that as humans, we have more in common with each other than we have differences that divide us.  Each of us reacts to the world around us in our own way, but when we are willing to consider the reactions of our neighbors, we may find they are not as different from us as we thought.
Ernest L. Blumenschein, 1874 Pittsburgh, Pennsylvania – 1960 Albuquerque, New Mexico, Star Road and White Sun, 1920, oil on canvas, 41 1/2 x 50 1/2 in., museum purchase, 1985 General Obligation Bonds, Albuquerque High School Collection, gift of classes 1943, 1944, and 1945, PC1986.50.3