Nicola López and Paula Wilson: Becoming Land
Coming to Albuquerque Museum October 2022. Contemporary interpretations of New Mexico landscapes incorporate the figure, reflect on human interactions with the natural world, and center ideas around power, ownership, and access to land.

Nicola López; NeverWild (diptych); 2021; cyanotype on mulberry paper; each panel 39 x 91 in.; photo by Alan Wiener
On view October 8, 2022–February 12, 2023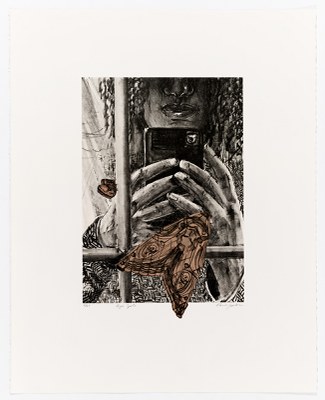 Paula Wilson, Eye Spots, 2021, two-color lithograph with chine collé on Thai Kozo, white Arches cover, and Gampi papers, 27 ¾ x 22 in. (sheet), image courtesy of Paula Wilson
Nicola López and Paula Wilson: Becoming Land is organized by Albuquerque Museum. Support is provided by the City of Albuquerque Department of Arts & Culture and the Albuquerque Museum Foundation.
Nicola López and Paula Wilson: Becoming Land presents contemporary interpretations of the New Mexico desert landscapes that embody an ecological perspective and emphasize the relationships between humans and their surrounding environment. Paula Wilson's prints and fabric-based installations integrate and center figures, expanding beyond the classical genre of landscape while Nicola López's prints imagine abandoned, futuristic structures centered in New Mexico scenes. Both artists explore new ways of seeing the land.
Becoming Land is presented simultaneously with three other exhibitions featuring historic and contemporary artists that engage the natural world through diverse depictions of the landscape. Shi Guorui: Ab/Sense-Pre/Sense and Kiki Smith: From the Creek offer specific responses to the landscapes and work of Thomas Cole presented in Thomas Cole: Memory and Inspiration. The works of Wilson and López featured in Becoming Land present a broader conversation with the works of Cole. Becoming Land suggests that artworks reflect the artist's and broader culture's ideas around power, ownership, and access to land.
López and Wilson's work center the New Mexico landscape and expands beyond traditional views and perspectives of the land as it has been depicted by artists in the United States. In Wilson's work, which includes large scale prints on fabric as well as prints on paper, the landscape is an ever-changing space full of relationships between animals, plants, and humans. Her work includes large-scale figures that contain the landscape, integrating different perspectives, seasons, and relationships. Other works show current technologies such as phones and headphones as part of the relationship between humans and the rest of the natural world. Wilson's work offers a nuanced exploration of the sublimity of nature that incorporates not only plants and animals, but also technology and debris which are part of human's evolving connection to the land.
Both Wilson and López's works challenge the viewer's notions of scale. López's works incorporate structures that appear futuristic and monumental, but are also engulfed by the surrounding landscape. Though there are no figures present, the works emphasize the ongoing human interactions and interventions in the landscape through time. López's prints appear as abandoned sites and suggest that there is no untouched wilderness left in the world. The forms of the landscape are interjected with structures that appear substantial, but also fragile and ephemeral integrating the past and the present with the suggestion of a desolate future. López's works on view include a large cyanotype as well as collagraphs and a charcoal drawing on printed photographs.
López and Wilson's works continue an ongoing dialogue around environmentalism and explore the agency that artists have in raising questions and concerns about the environment. The artists give attention to the desert landscape and their works suggest that the way we see the land reflects our relationship to it.
ABOUT THE ARTISTS
Nicola López
Born in Santa Fe, NM, Nicola López lives and works in Brooklyn and teaches at Columbia University in New York City. Through her work in installation, drawing and printmaking, López describes and reconfigures our contemporary—primarily urban—landscape. Her focus on describing 'place' stems from an interest in urban planning, architecture and anthropology and it has been fueled by time spent working and traveling in different landscapes. Her work has been exhibited throughout the United States and internationally, at museums including MoMA - NY, the Los Angeles County Museum of Art, Museo Rufino Tamayo in Mexico City and the Denver Art Museum. It has been featured in solo exhibitions at the Chazen Museum of Art (Madison, WI) and the Solomon R. Guggenheim Museum in New York.
Paula Wilson
Paula Wilson (born 1975) is an African-American "mixed media" artist creating works examining women's identities through a lens of cultural history. She uses sculpture, collage, painting, installation, and printmaking methods such as silkscreen, lithography, and woodblock. Paula Wilson attended Washington University (St. Louis, MO) from 1994-1998, earning her BFA and graduating summa cum laude. Wilson earned her MFA from Columbia University (New York, NY) in 2005. Wilson currently lives and works in Carrizozo, New Mexico with her partner, woodworker Mike Lagg.