A Garden…That Healing Feeling
The University of New Mexico Art & Ecology students and faculty of Creating Change create a public art and agro-ecology project in the Albuquerque Museum Sculpture Garden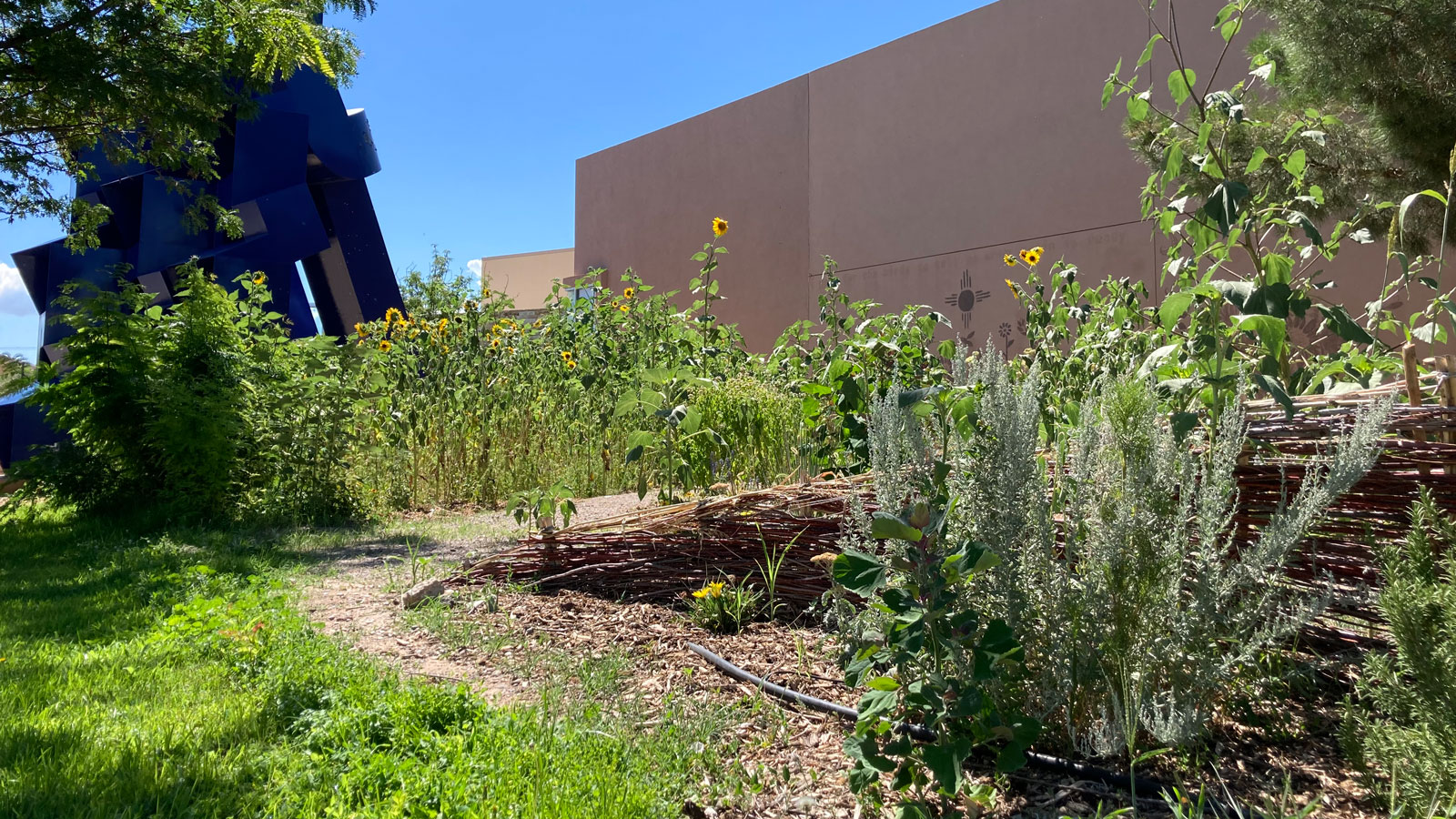 On view in the Albuquerque Museum Sculpture Garden
© 2022

Details subject to change.
University of New Mexico Art & Ecology students and faculty present A Garden, an eco-art installation at the Albuquerque Museum. This art space was started in 2018 as a site for community events and experimental art and ecology creations. The project cultivates relationships between soil, plants, and animals with the greater Albuquerque community.


A Garden is an eco-art installation designed by UNM Art & Ecology students and faculty who are part of the collective called Creating Change. A Garden is an ongoing partnership with the Albuquerque Museum. Each year, the students and faculty propose projects that engage the space in a variety of ways. Different farming methods, examining the soil, understanding water usage, and exploring a variety of plant species and how they support pollinators and other wildlife have been a few of the ways in which A Garden has served as a creative space.
That Healing Feeling (Spring 2022) is the latest iteration of A Garden and addresses inquiries around radical love, collective healing, and the transformative powers of plants.
According to Creating Change, "This project creates bio-cultural connections, a conversation across, with, and between species. How can we know peace and healing together? How can sadness and worry be transformed, as seeds are transformed in the earth, as a flower can bear fruit? With plants—as with people—we are deeply curious about how individual beings can maintain their unique identities while also becoming more unified and in relationship and solidarity with each other."
You are invited to A Garden, a space for contemplating peace and healing, and an earnest conversation with our larger ecological world.
Creating Change, Spring 2022 is:
Rae Bennu
Katie Cole
Emil Kennedy
Wendolyne Omana
Kara Tsikteris
Kitt Tudor
April Vihilidal
Morgan Watkins
Tom Wilson
Instructor: Asha Canalos
With help from: Lazarus Sanchez, Xam E. Oaks, Ryan Henel, Jeanette Hart-Mann, Darrell Kundargi and Dara Saville.
A Garden is on view in the Albuquerque Museum Sculpture Garden, north side of the building at Mountain Road and 20th Street. There is no cost to visit A Garden.