Docent Programs at Albuquerque Museum
How do I Apply?
Volunteer opportunities are managed through ABQ Volunteers. Click the link and set up your profile today.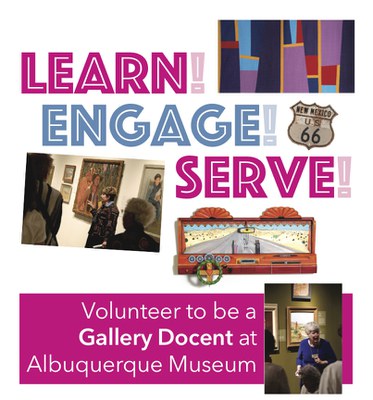 Docents Engage the Community in Art and History
Albuquerque Museum and Casa San Ysidro welcome over 100,000 visitors annually and offer guided tours to visitors from varied backgrounds, age levels and abilities.
Trained volunteers, or docents, make these guided experiences possible. Prospective docents should be comfortable speaking in public, enjoy interacting with wide range of people and have a passion for learning and giving back to the community.
Albuquerque Museum Gallery Program
View Gallery Program information
For information on the gallery docent program, click on the link above. You must register through the ABQ Volunteers website to be considered for the program. Click on the button on this page. Have more questions? Contact Jody Vanesky at [email protected] or 764-6502.
Casa San Ysidro
View volunteer program at Casa San Ysidro
For information on the docent program at Casa San Ysidro, call 505-897-8828 or email [email protected].
Old Town Walking Tour
View Old Town Walking Tour program information
What are the Benefits?
Docents are part of a team of museum professionals committed to getting the community engaged in art and history.
Docents receive free general admission to the Museum and Casa San Ysidro. They also receive a discount in the Museum Store.
An annual volunteer breakfast and service awards are provided. Social events including luncheons and field trips are offered throughout the year.