Second Saturdays
Casa San Ysidro, Albuquerque Museum's historic property in Corrales, New Mexico, presents free programing for the whole family on the second Saturday of the month. Enjoy these recordings of select events.
Visit our events page to learn about upcoming Second Saturday events
The Unique Legacy of Abraham Lincoln in New Mexico
February 13, 2021 — New Mexico State University Professors Christopher Schurtz and Dr. Dwight Pitcaithley describe Lincoln's connection to the New Mexico Territory.
DOWNLOAD PROGRAM GUIDE
Traditions of the Santero: Bulto Restoration Techniques
March 13, 2021 — Conservators Allison Herrera and Keith Bakker discuss bultos and bulto restoration techniques while referencing objects from the Museum's collection and other important examples in New Mexico.
DOWNLOAD PROGRAM GUIDE
New Mexico's Indigenous Languages
April 10, 2021 — Acoma resident, Dr. Christine Sims, director for the American Indian Language Research Center and an associate professor at UNM talks about the leading efforts in indigenous language revitalization. DOWNLOAD PROGRAM GUIDE
Native Dye Plants of New Mexico
June 12, 2021 — Las Arañas weaver Myra Chang Thompson and Rio Grande Return Conservation Director Cameron Weber describe native dye plants, their uses, and the local practices that people have used in New Mexico for generations. DOWNLOAD PROGRAM GUIDE
Bioregional Perspectives in New Mexico
July 10, 2021 — Jack Loeffler, bioregionalist, aural historian, environmentalist, and author/editor of numerous books, describes the developing the notion of indigenous-minded environmentalism and bioregionalism occurring in New Mexico and the Southwest. DOWNLOAD PROGRAM GUIDE
Herreros: The Spanish History of Blacksmiths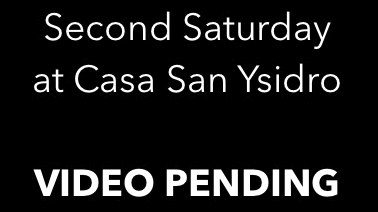 VIDEO PENDING — August 14, 2021 — Dave Sabo, a local blacksmith skilled in the traditional methods of herreros, describes some of the early iron manufacturing and blacksmithing practices that were used in New Mexico.