55th Annual ABQ RIDE Luminaria Tour
Calling All Angels to Ride ABQ RIDE's Luminaria Tour. Bring a Pair of New Socks for the Homeless Before You Take the Tour.
2019 Tour Tickets
Tickets for ABQ RIDE's Annual Luminaria Tour have sold out.
Tour times are scheduled at 5:30 p.m.; 5:50 p.m.; 6:10 p.m.; 6:45 p.m.; 7:05 p.m. and 7:25 p.m.
If you cannot make the tour, tickets are transferable.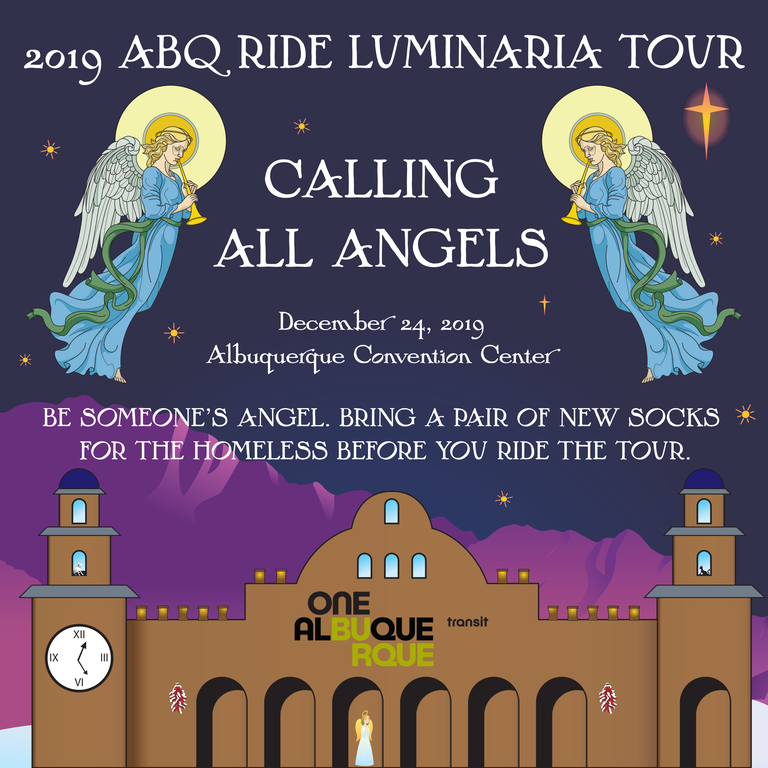 Enjoy an annual New Mexican Christmas Eve tradition without worrying about driving, parking, and traffic.
Let ABQ RIDE take you through beautiful neighborhoods filled with luminarias and Christmas lights in Old Town, the Albuquerque Country Club and other hot spots dressed for the Holidays.
The tour, originating from the Downtown Convention Center, lasts about 45 minutes.
Event Parking
Tour goers are encouraged to arrive no later than 20 minutes prior to scheduled departure time and can park for free at the Convention Center's east-side parking structure at Dr. Martin Luther King Jr. and Broadway NW.
Free parking will also be available for disabled and special needs individuals at the parking lot located at the northwest corner of 3rd Street and Marquette (just north of Civic Plaza). For your safety, please follow the signage to the Luminaria Tour. Please do not enter the Convention Center from the 3rd St. side.
Parking underneath Civic Plaza also is free. Please follow the signage to the Luminaria Tour.
Accessibility
The tour buses as well as the Convention Center are wheelchair accessible.
Tour Tips
Bathrooms are available only at the Convention Center departure location.
Drinks with lids are allowed on the bus.
Food or open liquid containers are prohibited.
Feel free to take pictures during the tour.
Frequently Asked Questions
View the frequently asked questions about the annual ABQ RIDE Luminaria Tour.
Tour Route