Greater Albuquerque Recreational Trails Committee
Information about the Greater Albuquerque Recreational Trails Committee.
Contact Info
Advisory Members
Off Road Bicyclists: Warren Wild
Runners and joggers: Vacant
Pedestrians and hikers: Ian Maddieson
East At-Large Representative: Vacant
West At-Large Representative: Tyler Ashton
Physically Challenged: Vacant
Active Elderly: Kathleen Rhoad
Equestrians: Valerie Cole
Serve on the Committee
Apply to serve on the Greater Albuquerque Recreational Trails Committee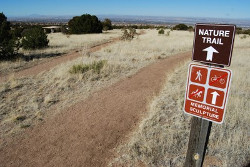 The Greater Albuquerque Recreational Trails Committee (GARTC) was formed by City Ordinance in 1990 to help develop and advise the promotion of a recreational trails plan. By 1993, GARTC had been influential in helping to create the currently adopted and reigning Trails and Bikeways Facility Plan.
GARTC consists of eight citizen members. These include one member for each of the following categories: equestrians, physically challenged, pedestrians and hikers, off road mountain bicyclists, active elderly, runners and joggers, one east at large, and one west at large member. The east and west members reside on either side of the Rio Grande, respectively.
GARTC's role is to support, encourage, and advise local, state, and federal agencies to set priorities to optimize the use of appropriated funding for the purpose of developing new, while maintaining and renovating older, trail networks throughout the greater Albuquerque Metropolitan region.
These networks of local and regional trails are a great opportunity to link parks, Major Public Open Space, National Park System trails, United States Forest Service areas and trails, and neighborhoods providing an alternative to auto transportation while encouraging recreation.
Other important roles for GARTC are to review plans and projects that will impact trails and provide comments from the users' point of view, encourage governmental entities to acquire and utilize right-of-way, and a major portion of GARTC's work should focus on helping to update and fulfill the Trails and Bikeways Facility Plan update.
As an advisory committee, GARTC also advises the Environmental Planning Commission, the Bernalillo County Planning Commission, the City of Albuquerque, the County, the Urban Transportation Planning Policy Board and other governmental entities concerning plans, programs, and standards for recreational trails that are predominantly off-street facilities but which may cross, parallel or share street right-of-way for limited lengths. For more information on GARTC's role, please review the ordinance.
Meeting Schedule: *new location and time*
GARTC is a Citizens' Advisory Committee that meets the third Tuesday of every month from 3:30-5:30 p.m.
*March's Meeting will be on the 22nd*
          Meeting Place:
          7th Floor conference room, Room 7096
          City Hall, Fifth and Marquette, NW
Citizens are encouraged to attend meetings to review and comment on projects and policies affecting recreational trails throughout the greater Albuquerque metropolitan area.
GARTC meetings are open to the general public.
Resolutions
Agendas
2016
2015
July (meeting cancelled)
November (meeting cancelled)
2014
2013
2012
Approved Minutes
Minutes from the Greater Albuquerque Recreational Trails Committee.
2016
2015
July 2015 (cancelled)
October (no quorum)
2014
October 2014 (no minutes due to no quorum)
2013
2012
February 2012 - No Quorum
April - July 2012 - No Quorums
October 2012 - No Quorum
December 2012