One Albuquerque Cleanup Month
Celebrate Earth Day and Keep Burque Clean by organizing a cleanup day in your neighborhood.
April 5, 2021

With Earth Day just around the corner, you and your fellow Burqueños can create a better future today by rolling up your sleeves—literally and figuratively! Every action, no matter how small, can make a world of a difference and your participation in the One Albuquerque Cleanup Month can make a huge difference here at home!
This year's Earth Day event is bigger than ever – four weekends of cleanups scheduled all over the City. Each quadrant is assigned its own Saturday for a cleanup day starting on April 24 and running through May 15, to Keep Burque Clean!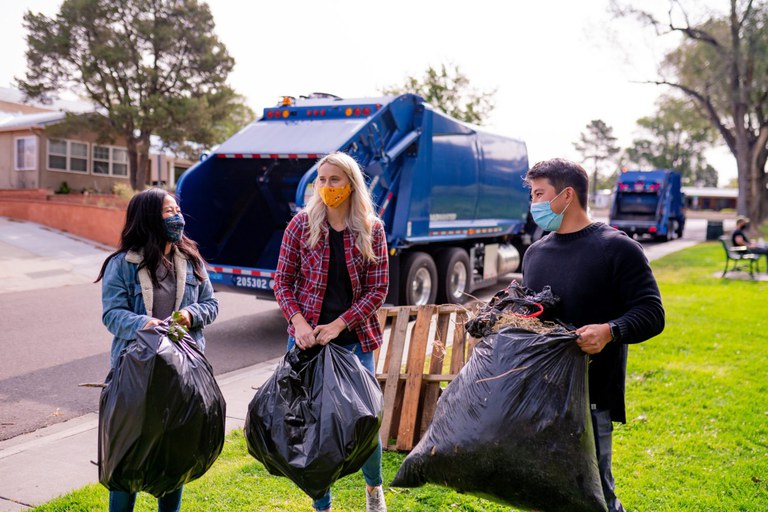 Details by Quadrant
Southeast
April 24: 8 a.m. – 12 p.m.
Central location: Phil Chacon Park, 7600 Southern Ave SE
Registration deadline: April 21
Northeast
May 1: 8 a.m. – 12 p.m.
Central location: North Domingo Baca Park, 7521 Carmel Ave NE (parking lot off Corona Ave NE)
Registration deadline: April 28
Southwest
May 8: 8 a.m. – 12 p.m.
Central location: Tower Pond Park, 601 86th St SW
Registration deadline: May 5
Northwest
May 15: 8 a.m. – 12 p.m.
Central locations:

Mariposa Basin Park/Taylor Ranch, 4900 Kachina St NW
Solid Waste, 4600 Edith Blvd NE

Registration Deadline: May 12
General Information
Participants will sign up through their neighborhood association, or by gathering some friends as a team and you can sign up as the team leader.
Neighbors and Team clean area around their homes, sidewalks, and surrounding areas—we must implement social distancing, wear masks, and not be in groups more than 10.
Each neighbor/team will bring the waste they gather to their centralized location between 8 a.m. and 12 p.m. where Solid Waste can collect it.
Anyone who wants to clean up more than just their own neighborhood and get involved in the other cleanups is more than welcome to join! We just ask that you sign up for each cleanup you want to be involved in.