Junk Jog
Join us for this plogging (jogging & picking up litter) event and help keep our Bosque beautiful!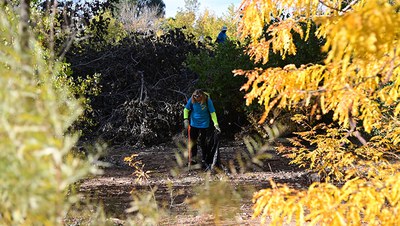 Join Keep Albuquerque Beautiful and the City's Solid Waste Management Department every fall for the the Junk Jog - a "plogging" event. Plogging, a combination of jogging and picking up litter, began several years ago as an organized activity in Sweden because of growing concerns about marine debris and litter. Keep Albuquerque Beautiful, alongside the City Solid Waste Management are bringing this trend back to the Southwest by inspiring Burquenos to help make our communities cleaner, safer, healthier and more beautiful.
Ploggers will have the opportunity to jog a couple of trails along the Bosque. Participants are invited to register as individuals or to form Junk Jog teams to help keep Albuquerque's Bosque beautiful.
Each plogger will receive a plastic garbage bag, gloves, and a litter grabber to pick up the trash, as well as an official t-shirt. At water stops along the route, volunteers will cheer participants on and help ploggers exchange filled garbage bags for new bags. At the end of the jog, each plogger's trash bags will be counted. Prizes will be given to the top three individuals and groups that collect the most litter.
Participate as a plogger or volunteer to help with the event!
Stay tuned for details including the date and time as we get closer to fall 2023.