Booklet about 25 Open Space Destinations
This unique trail and destinations guide was produced by the Open Space Division in 2009 during our 25th Anniversary year.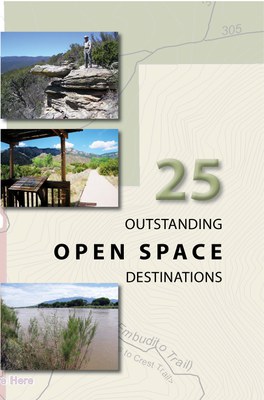 The guide features Open Space trails, trivia and more, and is available through the Open Space Alliance for $5.00. All sales benefit the Open Space Alliance.
*If you are an avid user of any of the areas described in the book, please let us know of any way we can improve the content! Email us your suggestions at [email protected]
Corrections
Open Space Division staff and volunteers have completed a 2nd edition! Many thanks to Open Space volunteer Charlie Wood for visiting each of the destinations and submitting the following comments for the newest version of the booklet. If you own the 1st edition, you may use these corrections to enhance your use of the booklet.
Bosque North Destinations
06; page 13; Bosque Trails at the Open Space Visitor Center
What To See & Do
River Loop Trail: 1.4-mile loop from The Visitor Center, Canopy Loop Trail: 1.8-mile loop from The Visitor Center. Both Loop Trails together: 2:00 mile loop from VC
08; page 15; Aldo Leopold Forest Interpretive Trail
Why It's Outstanding
The trail is 1.25 miles rather than 0.5 miles.
10; page 17; Los Poblanos Fields Open Space & Farm Trails
Why It's Outstanding
The Community Farm is at the NW corner of the property, 1-mile from the parking lot.
Bosque South Destinations
14; page 22; Rio Bravo Accessible Loop Trail & Fishing Pier
What To See & Do
The fishing pier is not on the river -- it's on the ditch east of the river and parking area.
Sandia Foothills Destinations
16; page 25; Pino Trail
What to See & Do
The Pino Trail continues over 3 miles and terminates at the Crest Trail.
20; page 29; South Trail 365 What to See & Do
The trail loop is 5 to 8.5 miles.
21; page 30; Hilldale/Tijeras Canyon Trail How to Get There
Take I-40 to the Tramway exit (Exit 167). Go north on Tramway. At the first traffic light, turn right on Encantado, Follow Encantado for .5 miles and turn right on Oakwood Pl. Drive .1 mile and turn left on Hilldale for .1 mile. Turn right on Camino de la Sierra for .4 mile to the trailhead of 365. Park on east side of the road.
East Mountain Destinations
22; page 32; Ponderosa Trail at Juan Tomas
How To Get There
Go about 2.5 miles until you reach an Open Space Boundary sign and horse-gate on the left side.
23; page 33; John A. Milne/Gutierrez Canyon
How To Get There
It is 3.2 miles, not 6 3/4 miles to the village of Cedar Crest.
Sandoval County Destinations
24; page 35; Los Duendes Trail Loop at Golden
How to Get There
1) It is 6.9 miles to La Madera Rd. --not 18 3/4 miles
2) Head west on La Madera Rd and go about 9 miles until you see the Golden Open Space sign on your right. (La Madera Rd. turns into a dirt read at 7.2 miles)
25; page 36; Placitas Open Space
How to Get There
Take I-25 to Placitas (Exit 242). Turn right and take Highway 165for 6.7 miles turn left. Follow Palomino .6 miles until the pavement ends. Turn left (sharp left) for .2 miles, follow it through an opening in the fence where it will take another sharp left. Continue for .1 miles until you see the Open Space sign.