Regional Haze Planning
This page describes the City of Albuquerque Air Quality Program's cooperation with the New Mexico Environment Department to develop a federally-mandated plan for improving visibility in designated national parks and wildness areas.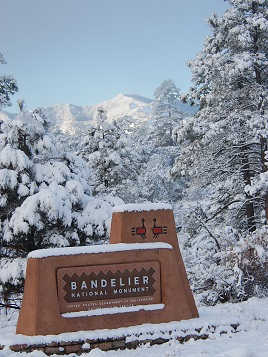 Bandelier National Monument, one of many federal lands
where the Regional Haze Rule protects visibility.
Photo by National Park Service, from https://www.nps.gov/band/learn/photosmultimedia/photogallery.htm.
Recent updates
October 15, 2020. EHD's Air Quality Program has posted the following documents related to GCC's draft Four Factor analysis, which are downloadable at the links below.
A review of the GCC draft four factor analysis by Eastern Research Group, Inc. (ERG), a contractor employed by the Air Quality Program to assess the GCC analysis. The ERG review may be downloaded at these links: 


A letter from GCC in response to ERG's assessment. The GCC letter may be downloaded at: 


August 21, 2020. A draft four factor analysis of potential reasonable progress controls is available for the GCC Rio Grande. Inc. Portland cement manufacturing facility in Tijeras, New Mexico. To download a copy of the draft GCC analysis, click the link below:
August 17, 2020. The New Mexico Environment Department and the City of Albuquerque Environmental Health Department will be holding an outreach webinar on Regional Haze Tuesday, August 25, at 10:00 a.m. For details see the news update at this link. 
September 30, 2019. The New Mexico Environment Department (NMED) will hold a webinar on Regional Haze planning in New Mexico on Wednesday, October 2, 2019, from 10:30 a.m. to noon. Information on how to sign up to listen and view the webinar is available at NMED's Regional Haze web page. If you are unable to attend the webinar live, a recording of it will be made available afterward. 
September 30, 2019. The Environmental Health Department has established a web page describing Regional Haze Planning. The Department also sent out a message notifying stakeholders of the planning effort. Go to this link to read the Department's message. 
Contact information
For inquiries about the role of Albuquerque and Bernalillo County in New Mexico's Regional Haze process, or to sign up for the Environmental Health Department's email list-serve on Regional Haze outreach, please contact Ken Miller, Air Quality Regulation Development Coordinator for the City of Albuquerque Environmental Health Department, at [email protected] or (505) 768-2660.
Regional Haze overview
The federal Clean Air Act requires the U.S. Environmental Protection Agency (EPA) to reduce human-caused visibility impairment at certain federal public lands around the country. To fulfill this mandate, EPA adopted a regulation known as the Regional Haze Rule. It aims to reduce visibility-obscuring pollutants caused by human sources over a widely scattered area. The Rule says that states must submit plans to EPA about once every ten years, demonstrating how a state will make what the rule calls "reasonable progress" over time toward visibility improvement. Reasonable progress means gradual reductions in human emissions of substances known to cause visibility issues at the federal parks and wildernesses protected by the Rule.  
The City of Albuquerque Environmental Health Department (EHD), Air Quality Program, is cooperating with the New Mexico Environment Department (NMED) to develop a statewide Regional Haze plan. EHD is developing the portion of the statewide plan that will cover Albuquerque and Bernalillo County. NMED will develop the parts covering the rest of the state. EHD must submit its proposed local element of the plan for consideration by the Albuquerque - Bernalillo County Air Quality Control Board. The final statewide plan is due to EPA by July 31, 2021. 
On the road to that milestone, EHD and NMED are seeking public input. For details of the statewide Regional Haze planning process, go to NMED's Regional Haze web page. It describes how the Regional Haze Rule works, provides links to extensive background information, and enables sign-up for email updates on New Mexico's statewide Regional Haze effort. 
Regional Haze resources
New Mexico Environment Department Regional Haze planning page. Provides background and updates on Regional Haze activities in New Mexico outside of Albuquerque and Bernalillo County. 
EPA Visibility and Regional Haze Page. Background on the technical and regulatory dimensions of visibility protection at the federal level. 
Western Regional Air Partnership Regional Haze Planning Workgroup web page. Information about Regional Haze planning by 15 western states in partnership with EPA, federal land management agencies, tribal governments, and local air quality agencies. 
Regional Haze Technical Support System data site. A web site presenting data related to Regional Haze planning, on monitored pollutant concentrations, emissions, and modeling results. Produced by the Western Regional Air Partnership. Will be continuously updated. 
EPA docket for first Albuquerque - Bernalillo County Regional Haze plan. Information at this link documents the regulatory process leading to EPA's approval of the plan for the period 2008 to 2018. 
EPA docket for first Albuqurque - Bernalillo County Regional Haze progress report. Information at this link documents EPA approval of the progress report for implementation of the first Regional Haze plan.