Immunizations
Staying up to date on vaccinations is more important now than ever during the COVID-19 pandemic. We can help keep illness from spreading in our community by getting vaccinated. Information about immunizations in Albuquerque.
COVID-19 Vaccine Information in Multiple Languages
COVID-19 FAQs
COVID-19 Vaccination Information
The Federal Government has approved two COVID-19 vaccines for distribution with more on the horizon in 2021. Getting vaccinated is an important step to help keep you and your family safe and end the pandemic.
Contact you doctor if you have specific questions about any health issues, recent vaccinations, or COVID-19 treatments that might affect your ability to get the COVID-19 vaccine.
When will COVID-19 vaccines be available to the general public?
COVID-19 vaccines are being rolled out in a phased approach as supplies of vaccine are initially limited. Frontline healthcare workers, nursing home residents, certain essential workers, older adults, and people with certain underlying health conditions will receive the first sets of vaccinations.
Vaccines are anticipated to be widely available to the general public by mid-2021.
Where can I get a COVID-19 vaccine?
The State of New Mexico encourages anyone who would like to get a COVID-19 vaccine to preregister. Individuals will then be notified when it's their time to get their vaccine. Preregister here.
As COVID-19 vaccines become available to the general public, check back to this webpage to help find a clinic near you.
What is mRNA?
COVID-19 vaccines made by Pfizer and Moderna use messenger RNA (mRNA) technology. While mRNA is a new approach for vaccination, scientists have studied mRNA for decades. These mRNA vaccines provide our cells with specific instructions to produce a harmless piece of a protein found on the outside of the COVID-19 virus, called a spike protein. Our immune system recognizes the spike protein as foreign and builds antibodies. These antibodies can then protect us from future COVID-19 infections.
It's important to remember a few things about mRNA vaccines:
You cannot get COVID-19 from the vaccine. mRNA vaccines do not use any live virus that can cause COVID-19, and do not contain genetic material for any other component of the virus.
The vaccine does not cause changes to our DNA. mRNA never enters the nucleus of the cell where our DNA is kept. After reading the instructions for the spike protein, our cells destroy the mRNA.
How is mRNA different from other vaccines?
Unlike traditional vaccines that use inactivated or weakened viruses to trigger an immune response, mRNA does not use any part of a virus. Instead, mRNA provides instructions to our cells to produce a harmless piece of the protein found on the outside of the COVID-19 virus. This protein teaches our body how to respond to COVID-19 without being exposed to the virus itself.
Is it safe?
In rare cases, individuals have experienced severe allergic reactions after getting vaccinated for COVID-19.  These reactions were temporary and were quickly resolved by medical personnel. There have not been any instances of reactions resulting in death.
These reactions most often occurred in people who had a known history of allergic reactions. All allergic reactions occurred within minutes of receiving the vaccination and every individual has made a full recovery.
The Centers for Disease Control and Prevention (CDC) along with the Food and Drug Administration (FDA) are monitoring these developments closely. It's important to remember that allergic reactions happened in a just a few people out of the millions who have already received the vaccine, and although rare, can happen with other existing vaccines.
If you have questions regarding your medical history or your ability to get a COVID-19 vaccine, please contact your primary care doctor or other medical professional.
Do I still have to wear a mask and social distance after I've received my second dose of vaccine?
Yes, you should continue to wear a mask and social distance even after you've been fully vaccinated (received 2 doses) for COVID-19. A pandemic requires that we use all the tools available to us to help lower the spread. Until scientists learn more about the protection that the COVID-19 vaccine gives us, it is important to continue all social distancing measures, wearing a mask, washing hands, and following all Public Health Orders.
Although the current vaccines are highly effective at preventing the onset of actual illness following a COVID exposure, it is not yet clear how effective the vaccines are at preventing spread of the virus from person to person.
Will I test positive for COVID-19 after getting the vaccine?
No, COVID-19 vaccines will not cause you to test positive for COVID-19 on a viral test. If you test positive for COVID-19 shortly after getting vaccinated, it is because you were either exposed prior to getting vaccinated or shortly after receiving your vaccine. Remember, it takes a few weeks after your second dose of vaccine to get the most benefit.
Do I need to get the vaccine if I've already had COVID-19?
Yes, you should get vaccinated even if you've already had COVID-19. Right now, experts do not know how long a person's immunity will last after having COVID-19. This type of immunity, or natural immunity, can vary from person to person and might not last very long. Due to the severity of COVID-19 and the possibility, although rare, of reinfection it is important to get vaccinated for COVID-19 when you are able.  
Talk with your doctor if you've been treated for COVID-19 within the last 90 days or have medical questions about getting the vaccine.
How much will the vaccine cost?
COVID-19 vaccines are free to everyone, regardless of your insurance status.
Vaccination providers can charge an administration fee. Most often these fees will be reimbursed by your health insurance or the federal government. The federal government requires vaccine providers to administer the vaccine to everyone regardless of their insurance or immigration status.
Can my kids get the vaccine?
Currently, COVID-19 vaccines are approved for people 16 years of age and older. Studies are underway for children under 16 years old.
How many shots will I need?
Currently, all COVID-19 vaccines require two shots given 3 to 4 weeks apart. It's important to get both shots, as this will provide you with the most protection against COVID-19.
I've heard about new strains of COVID-19. Will the vaccine work against these new strains?
All viruses can change or mutate overtime. These new mutations are called variants as they differ slightly from the original virus. Currently, there are two variants of the COVID-19 virus circulating worldwide, one variant discovered in the United Kingdom and another discovered in South Africa. Right now, both of these variants seem to spread more easily from person to person. There is currently no evidence that these variants will increase your risk of severe illness or death.
Medical experts are working hard to learn where these variants have spread, how or if they differ in disease transmission and severity from other variants, and any challenges this might present for vaccination. Currently, there is no evidence that vaccine effectiveness will be impacted by these variants, and at least one preliminary study confirms that the vaccines offer protection.
Additional Resources
NM Department of Health COVID-19 Vaccine
CDC COVID-19 Vaccination Information
Seasonal Flu Vaccine
Influenza, or flu, is a viral respiratory illness that is spread person to person via respiratory droplets when a person coughs, sneezes, or talks. Symptoms of the flu often come on suddenly and can include, fever, cough, sore throat, runny or stuffy nose, muscle aches, headache, and fatigue. Last year, it's estimated that between 39‒56 million individuals in the United States had the flu and 410,000‒740,000 people were hospitalized for their illness.
This year, it's important to get vaccinated for the flu to help reduce respiratory illness and preserve limited health care resources that may be in short supply due to the COVID-19 pandemic.
What is the City of Albuquerque Doing to Promote Vaccination?
In order to best serve our community, the City of Albuquerque is encouraging all of its employees to get vaccinated for the flu at our yearly employee vaccination events. We are also partnering with other State and local agencies to spread the word and encourage all residents to get vaccinated.
Routine Vaccinations
Routine vaccinations, typically provided in childhood, prevent a number of serious diseases, including: measles, mumps, chicken pox, rubella, and more. Recent reports find that many children may not be up to date on their routine vaccinations given stay at home orders and concerns with COVID-19. Getting kids vaccinated for these diseases keeps our community healthy. Many of these vaccinations are also required in order for children to attend school.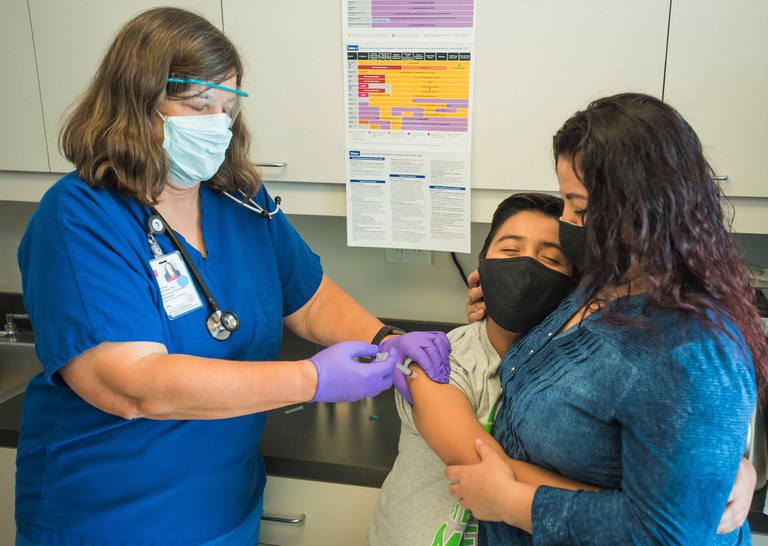 Additional Resources