Driving on Central Avenue
Stay in Your Lane, to Keep Everyone Safe
Watch: ART Driving Tips from KOAT
Driving on Central Avenue
ART runs in the middle of Central Avenue between Coors and Louisiana.
Make left turns and U-Turns, only at traffic lights.
BUS ONLY means Stay in Your Lane.
Crossing double lines means fines.
Only buses, emergency and ART maintenance vehicles are permitted in the ART lane.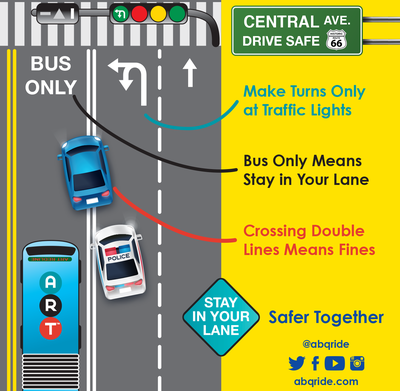 HAWK Signals
High-intensity Activated crossWalK beacon (HAWK) is a traffic control device used to stop road traffic and allow pedestrians to cross safely.
These crosswalk lights are similar to regular stoplights:
Yellow = Slow Down
Red = Stop
If the crosswalk lights aren't on, continue driving through.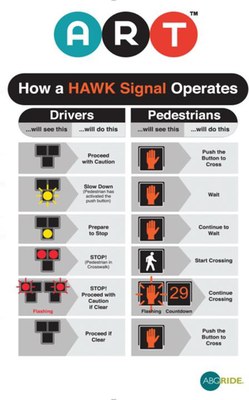 Bus Signals
Bus signals are mounted on traffic signals in front of the bus lanes.
These signals are black and white and consist of a horizontal line, a triangle and a vertical line.
These signals only direct transit vehicles. Drivers should ignore them.