City Presents Language Access Materials to Community
Office of Immigrant & Refugee Affairs convenes event showcasing vital translated resources
Today, the City's Office of Immigrant and Refugee Affairs (OIRA) brought together city departments to share translated resources with the community, and with each other, at the Language Access Day of Action event. Resource materials include OIRA's new Immigrant and Refugee Welcome Guide translated into seven  languages, "I Speak" cards available in eight languages, and materials from Albuquerque Community Safety, Technology & Innovation, Consumer Protection and Civil Rights departments. The "I Speak" cards are for non-English speakers to use to inform others they require an interpreter.
"Language access is imperative as we collectively work toward building a more inclusive Albuquerque," said Beatriz Valencia, OIRA Liaison. "We continue to see improvements across City departments as we see more and more materials being translated. It is imperative that we connect non-English speakers with the city's full range of resources and present it to them in a language they understand."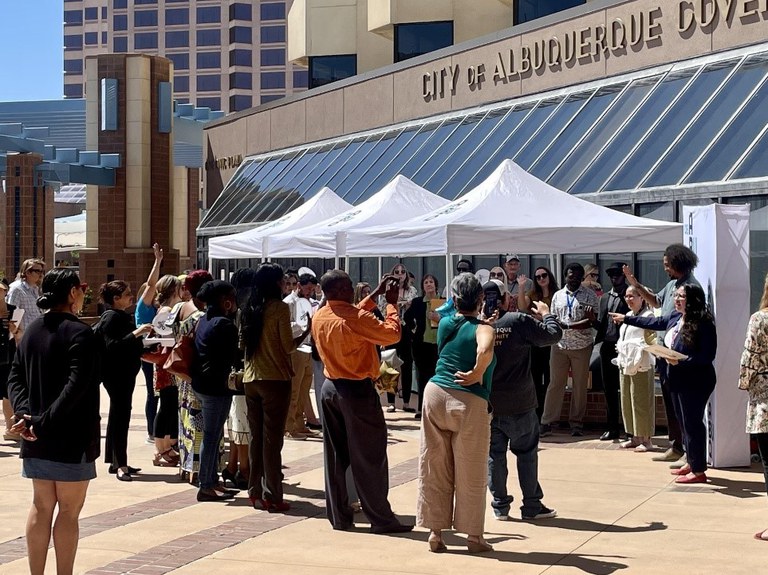 The event was attended by community organizations that have long advocated for language access, as well as by city department language access coordinators. Department language access coordinators are responsible for developing department language access plans, which describe which vital documents should be translated and into which languages, in order to make vital city information available to those with Limited English Proficiency.
The City's Office of Equity & Inclusion (OEI), which leads the three population offices: OIRA, Office of Native Affairs and Office of Black Community Engagement, has long been leading the effort in language access for the city. OEI advocated to enact this into policy, and in 2021, Mayor Tim Keller signed the Language Access Resolution that requires city department to make City services, resources and information more accessible to residents, regardless of their English proficiency. Additionally, OEI developed a toolkit for departments to use to implement the Language Access Policy. 
"Language Access Day of Action celebrates the power of communication and embraces the richness of the diverse languages and cultures here in Albuquerque" said Mohammad Ismail, APS Refugee Case Manager. "It is vital that we collaborate with municipal government and continue to advocate for linguistic equity and continue to foster a city where language is never a barrier to accessing vital resources."