How the City is Preparing
Information on how the city is preparing for a disaster.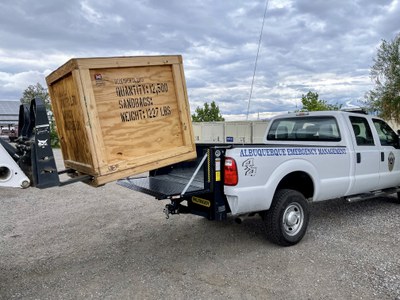 The City of Albuquerque government is preparing to respond and recover from all hazards.
First, the City is working to identify and reduce risks:
The City's Fire Wise program reduces fuel sources close to Albuquerque homes and buildings – and works to reduce fuel loads in the Bosque.
Where possible, the City and Bernalillo County advance lower-population routes for dangerous chemicals, and otherwise work to reduce local storage and transit of hazardous materials.
Second, the City is preparing to respond to and recover from all hazards:
The Mayor and the Office of Emergency Management coordinates planning with Police, Fire, Rescue, Hazardous-Materials, 311, Environmental Health, and other City agencies.
The City integrates its planning with local businesses, the federal government, state government, the New Mexico National Guard, the American Red Cross, Albuquerque Public Schools, United States Postal Service, Sandia National Labs, and the Kirtland Air Force Base, to name just a few.
The City conducts mock-disaster exercises to test the City's integrated response to an emergency.
The City plans for continuity of government.
What the City Will Do in an Emergency
In a nutshell: The Mayor, the Office of Emergency Management including the Emergency Operations Center, and the incident commander will lead and manage the crisis. The City's 311 call center will answer questions. As needed, the Bomb Squad, Special Weapons and Tactics Team (SWAT), and other Police Department teams will respond to the crisis, direct traffic, block streets, and go door-to-door. As needed, Emergency Management Technician (EMT) -trained fire officers and rescue officers will combat fire, rescue people, and control hazardous materials. As needed, shelters will be established and evacuation routes announced.
Specifically, the following steps will be taken, as needed, under the leadership of the Mayor, the City Emergency Manager and the Office of Emergency Management:
Activate the Emergency Operations Center.
Assess the situation and involve all appropriate agencies: law enforcement, fire, rescue, hazardous materials, public health, communications, energy, etc.
Support the incident commander.
Provide information via the City's website, 311 call center, and news media (newswires, radio, TV, Internet).
If needed, establish shelters and evacuation routes (and what routes not to use) and transportation for every citizen possible.
If needed, inform public school officials and provide specific instructions regarding APS school children.
Ensure continuity of government.
Ensure that all levels of government – federal, state, county, and municipal – work together in a coordinated manner on operations, logistics, planning, and finance.
Launch strategic disaster recovery efforts.
Emergency Training Exercises
Through the City's Emergency Operations Center (EOC), the Office of Emergency Management continuously prepares for a disaster in Albuquerque by conducting a range of training sessions and exercises.
We have developed a three-year exercise and training program that we updated yearly for the Albuquerque metropolitan area:
On a yearly basis we train, or conduct refresher training, for all EOC personnel (over 120 personnel) in their duties and responsibilities in the Emergency Operations Center.
Throughout each year we either participate in our own exercises or support other local, state and federal agencies in their exercises.
Our staff continuously hones their skills by attending as many as three Federal or State sponsored training sessions per year.
All of our exercises adhere to the rigid federal training requirements as established by the Homeland Security Exercise and Evaluation Program (HSEEP).
When we do conduct EOC exercises, we do each exercise three times in order to keep the three 40 member teams in the EOC fully trained.