Mosquito Fish Distribution
Mosquitofish will be available for the public after Mid-May.
About Mosquitofish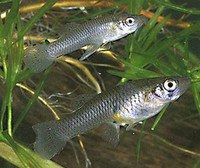 Mosquitofish (Gambusia affinis) are a guppy-like fish that eat mosquito larvae in aquatic habitats.
Mosquitofish can be used in ditches, ornamental ponds, bird baths, watering troughs or retention ponds to control mosquito breeding.
The Urban Biology Division distributes mosquitofish to the public as a FREE service.
Mosquitofish are distributed to the public from mid-May through early September at several local businesses set up as Mosquitofish Distribution Points.
Mosquitofish will continually breed in their new home. Only a few are necessary.
Mosquitofish Distributors
Mosquitofish are distributed for free as a public service for mosquito control.
Please contact your nearest distributor to make sure they have mosquitofish in stock.
Mud Monsters Landscape Supply
5101 Edith NE
505-217-2856
Mud Monsters website
Businesses Participation
Albuquerque businesses with fish-stocking resources that are interested in becoming a mosquitofish distributor can contact us.