Candelaria Nature Preserve
Information about the 167-acre Candelaria Nature Preserve.
Public Notification
The City of Albuquerque is working with Basic IDIQ to construct the wildlife viewing areas at the Candelaria Nature Preserve. Construction of the west viewing area is estimated to be completed at the end of May 2023.
Construction of the east viewing area off the Duranes Lateral (acequia) is staring in May 2023. There may be temporary closures along the west side of the acequia during construction, but the east side of the acequia will remain open.
Candelaria Nature Preserve Annual Report and Presentation
Click here to view the 2022 annual report.
Click here to view the 2022 presentation.
Candelaria Nature Preserve Crop Plan 2023
Click here to view the crop plan for 2023.
Tree Nursery Tract
Environmental Planning Commission hearing information
November 2, 2022
EPC approved the site plan for the Tree Nursery Tract based on a number of Conditions of Approval including a grading and drainage plan as well as detailed plans for the various site amenities such as shade structures, signage and walking paths. Also, the Open Space Division will require a comprehensive irrigation plan and other detailed documents prior to any construction. The city is identifying additional funding and developing a phased approached to implementing these next steps. An updated timeline will be posted soon.
Regarding the wildlife viewing areas, the city has obtained the required permits for the westside blind and is working with contractors to start construction this winter. The viewing platform on the eastside is still under review by MRGCD. Planning for the additional viewing areas on Veranda and the Candelaria South Tract will resume in 2023.
The Friends of Candelaria are leading the effort with city staff and partners to develop an interpretive signage plan for the CNP, including the Woodward House. There will be opportunities for additional partner and public engagement in the near future.
The Open Space Division and partners will present a detailed report of the past year's progress in January to the Open Space Advisory Board, which will also be posted on this website.
August 18, 2022
The City Parks and Recreation Department Open Space Division, the property owner and applicant, applied for a Site Plan for an Extraordinary Facility at the Candelaria Nature Preserve Tree Nursery Tract to be reviewed by the City's Environmental Planning Commission (EPC) (project # PR-2020-004639).  The EPC public hearing is scheduled for August 18, 2022 beginning at 8:30am; and the Agenda which contains the Zoom link, will be posted one week prior to the hearing date here:  EPC Agendas, Reports & Minutes — City of Albuquerque (cabq.gov)
The site is addressed 3301 Rio Grande Blvd NW, is zoned NR-PO-B, Major Public Open Space, and no Deviations, Variances, or Waivers are requested.  A pre-application Neighborhood / public meeting occurred May 4, 2022 and the summary notes are linked in the section below. 
Per 6-4(K)(1), please review the following links for additional information about this application:
More information
The City and MRWM Landscape Architects presented the final proposed Rio Grande Tree Nursery Site Plan virtually to the general public on May 4th. Presentation materials can be viewed below:
The City and MRWM Landscape Architects presented two refined alternatives to the neighboring community on March 30th. Presentation materials can be viewed below:
The City and MRWM Landscape Architects conducted site visits with the neighboring community. Based on those meetings, they presented five design concepts on February 3rd. Presentation materials can be viewed below:
Monthly Hikes
Unless otherwise noted, guided tours will be offered at Candelaria Nature Preserve the last Friday of every month.
Come explore the Candelaria Nature Preserve where wildlife abounds and a major restoration effort is underway to convert farm fields to a mosaic of wildlife habitat. This free monthly tour is led by staff and volunteer experts. Tour begins at entry gate located at the west-end of Arbor Road, west of Rio Grande Blvd. Please dress for a walk on rough terrain and bring water. There are no restroom or drinking water facilities available on site.
Hikes are free but registration is required. To sign up for this tour or for information about other educational events visit play.cabq.gov
A Brief History of the Candelaria Nature Preserve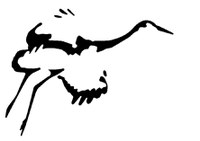 In 1977 the City of Albuquerque purchased approximately 167 acres in the north valley to create a nature preserve with an outdoor recreation component. The property was purchased with money from the Land and Water Conservation Fund. Since the property's purchase, Candelaria Nature Preserve has been operated and maintained by the City of Albuquerque Open Space Division and the Rio Grande Nature Center State Park as a part of a network of open spaces that:
Preserves and protects natural features and cultural resources,
Creates a sense of place for residents and visitors,
Provides educational and recreational opportunities, and;
Contributes to a network of Rio Grande migratory bird refuges along the Rio Grande.
Resource Management Plan Goals
The fundamental goals of this resource management plan include:
Comply with City Council requirements by:

Managing the property for its original dual purposes of a nature study area and wildlife preserve, while providing compatible public outdoor recreation opportunities,
Correcting issues of non-compliance with Land and Water Conservation Fund rules and policies,
Basing the Resource Management Plan primarily on the 1979 Predock Plan and drawing relevant information from other planning documents, and
Developing feasible alternatives that comply with City Council Resolution R-16-147 and LWCF regulations.
Related documents
View the final adopted Candelaria Nature Preserve Resource Management Plan and the City Council adopting legislation.
View the 2021 annual presentation to the Open Space Advisory Board.
View Soil Descriptions and Characteristics, and Groundwater Monitoring Details (Appendix B of Resource Management Plan)
View the Candelaria Nature Preserve habitat wetlands design developed in 2020 by Aquatic Consultants and Hydra Aquatics.
View the 2020 annual presentation to the Open Space Advisory Board.
Below are the documents for the September 11, 2019, public meeting:
Below is the panel presentation presented at the June 22nd, 2019, public meeting. The first panel includes wildlife habitat maps representing the existing conditions, transition plan, and 20 restored wildlife habitat plan. The second panel represent options for limited and increased public access and outdoor recreation opportunities.
Below are potential management alternatives prepared by SWCA and presented to the Technical Advisory Group during the April 11, 2019, meeting.
Monitoring
Visit this page for a map of a compilation of some of the monitoring and research being done at Candelaria Nature Preserve. These include:
Photo points that provide a snapshot of a fixed location to identify changes over time.
Bosque Ecological Monitoring Program sites that collect data on vegetation cover, fuel load, and arthropods.
Vegetation transects and quadrats that measure vegetation cover and species
Seed bank analysis that shows the repository of dormant seeds within the soil that may have the potential to emerge.
Additional monitoring is done that is not illustrated on this map including soil analysis, fuel load assessments, aerial photography, citizen science data, and avian monitoring.
Public Outreach
Guided Public Information Tour
Last Friday of Every Month
10AM to Noon
Previous public engagement
Rio Grande Tree Nursery Meeting
Wednesday, March 30, 2022
5:30 pm
Wildlife Viewing Areas Virtual Public Meetings
Stakeholder Interviews – November and December 2018
Public Meeting #1 – Goals Establishment – January 30, 2019 - Agenda, Meeting Presentation
Candelaria Nature Preserve Discovery Hikes – February, March 2019

Click on the link below for your preferred time and location. It will direct you to the City's event registration website. Add the item to your cart, and the site will ask you to login or register for an account. Please follow the prompts to complete the registration process. If you experience any difficulties registering for the hike of your choice, please call (505) 452-5202.
Candelaria Nature Preserve - North (Beginning at the Woodward House)

Candelaria Nature Preserve - South (Beginning at the Rio Grande Nature Center parking lot)

Public Meeting #2 – Option Consideration – June 22, 2019, from 8:30 a.m. - 10:30 a.m. at Woodward House.
Download a flyer for the June 22 meeting
Public Meeting #3 – Preferred Option Consideration – Sept. 11, 2019, from 5:30 p.m. - 7:30 p.m. at the Rio Grande Nature Center; Download a flyer for the September 11 meeting. Please note that anyone visiting the Rio Grande Nature Center must follow a detour around the construction at the intersection of Candelaria and Rio Grande Blvd.