Balloon Museum Exhibitions
---
See the Balloon Museum virtually at Threshold 360 Map.

---
In 2015, the Fédération Aéronautique Internationale (FAI) awarded the rare title of FAI Recommended Museum to the Anderson-Abruzzo Albuquerque International Balloon Museum.
The FAI Recommended Museum Program exists to recognize worthy and notable museum collections of an aeronautical nature which are used to further the education of the public, particularly children, in the history and practice of air sport, aeronautics and astronautics, and/or commercial or military aviation. The Balloon Museum is home to the FAI's Ballooning Hall of Fame.
---
Permanent Exhibitions
The Anderson Abruzzo Albuquerque International Balloon Museum is home to one of the most complete collections of artifacts, images, and stories from the world of ballooning.
Since the first balloon flights in 1783, ushering humans into the age of aviation, hot air and gas balloons have been used for exploration, sport, and adventure. The permanent exhibition at the Balloon Museum helps visitors to understand the rich history of ballooning.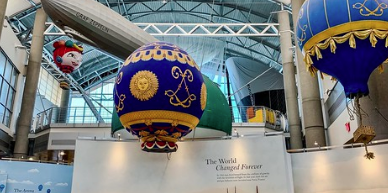 Encounter the innovators, leaders, and record-setters of ballooning.
Engage with hands-on exhibitions that excite the young and young at heart about the joy, science, culture, and art of ballooning at our new youth exhibition.
---
Special Exhibitions
The Balloon Museum features new exhibits that explore the past, present, and future of ballooning, as well as subjects related to the science, engineering, and technology of lighter-than-air aviation.
Encounter and experience the science, power, and beauty of weather!
Discover the history of the unprecedented attempt in 1897 to reach the North Pole by balloon.
Explore the ways in which women in ballooning are connected to the past through stories, records, family traditions, and magical feats.
Examine the striking use of black and white design in contemporary New Mexico art and the attire of the Albuquerque International Balloon Fiesta® Launch Directors.
Discover artwork created in the late 19th century in France that illustrates the promise and evolution of industrialization, while emphasizing movement and speed. 
Get insight into the life of the father of Balloon Fiesta, Sid Cutter, both in and outside of hot air ballooning.
View original Warner Brothers animation cels of Road Runner and Coyote by Chuck Jones and learn about the longstanding history between the art of Jones and hot air ballooning competitions.
Starting in the 1970s, the Albuquerque International Balloon Fiesta® became the backbone of the city's cultural identity. Step inside and learn how it all started and how it grew from thirteen balloons to more than 1,000 in 2000!
*OFF-SITE*
Celebrate the earliest ballooning in Albuquerque and explore a selection of the Anderson Abruzzo Albuquerque International Balloon Museum's rarely seen collection of early modern hot air balloon gondolas.
---