This project will identify improvements for pedestrians and other users along this busy transit corridor.
Project Overview
The City Council office has retained nationally-recognized firms Gateway Planning Group  and Nelson\Nygaard to help develop a "Complete Street" plan for Central Ave. from 1st Street, near Downtown, to Girard Blvd., near the University of New Mexico campus.
Central Avenue (historic Route 66) is Albuquerque's "Main Street," traversing the city from east to west, from City limit to City limit.  It varies in character and function as it travels through many of the city's oldest and most distinct neighborhoods.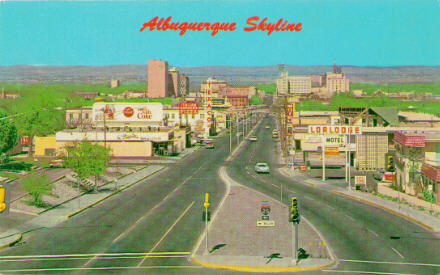 In the stretch of corridor heading eastward out of Downtown Albuquerque and through the university area (University of New Mexico), Central Avenue is in need of a transformation from an auto-oriented, auto-dominated roadway into one that better serves the many urban dwellers, pedestrians, transit users, students, and other non-motorists who have chosen to reside and conduct their daily activities along and near the Central Avenue corridor.
Area residents and business owners have expressed concerns about pedestrian safety (e.g., the lack of adequate pedestrian crossings), excessive travel speeds, the design of transit facilities (i.e., bus pull-outs vs. in-lane loading), and other aspects of the existing design of the public realm that are perceived to be impeding redevelopment efforts.
The purpose of this planning effort is to identify improvements that can be made to the Central Avenue corridor to increase safety and efficiency for all users, create a more pedestrian-friendly environment, and leverage key investments, such as the enhanced Bus Rapid Transit (BRT) service that is being studied by ABQ Ride in a separate effort. Ultimately, this project will result in an implementable "Complete Street Master Plan" that will help acheive this transformation.
Public Participation and Presentations
On February 27, the project team held a public education meeting to present early research on existing conditions along the corridor, educate stakeholders on the purpose of this project and the concept of "Complete Streets," and to allow participants to provide feedback about the corridor's strengths and needs. A follow-up stakeholder workshop the next day allowed stakeholders to work interactively with our consultants to develop and design corridor improvements.
You may download a copy of the Feb. 27 existing conditions presentation by clicking here.
You may also learn more about Complete Streets from the National Complete Streets Coalition by clicking here.
Next Steps
The project team will develop a set of draft recommendations which will be posted at this site and presented at a future public meeting.
Submit Your Comments
If you weren't able to attend the meeting in February, or if you have additional input you would like to provide, the project team welcomes your feedback on potential improvements to Central Avenue from 1st Street to Girard. You may provide input in one of the following ways:
Comment Form: Click here to submit your comment in an online form.
EMAIL: karasr@cabq.gov or awebb@cabq.gov Please include your name and physical address in your email, and please use the subject line "Central Avenue Complete Streets Plan."
MAIL: Send written comments City of Albuquerque City Council Services, Attn: Andrew Webb, P.O. Box 1293, Albuquerque, NM 87103-1293.  Please include your name and physical address.
Consultants
Gateway Planning is a Fort Worth, Texas-based town planning firm that specializes in urban design, form-based code, public-private finance and community facilitation.
Nelson\Nygaard Consulting Associates, Inc., headquartered in San Francisco, Calif. is a transportation planning firm focused on multi-modal transit, transit-oriented development and mobility improvement.
Contact Information
For more information about this project, please contact Kara Shair-Rosenfield at 505-768-3114 or Andrew Webb at 505-768-3161.
Document Actions