Hundreds Turn Out for Event Celebrating Refugees
Community and City plan World Refugee Day celebration held on Civic Plaza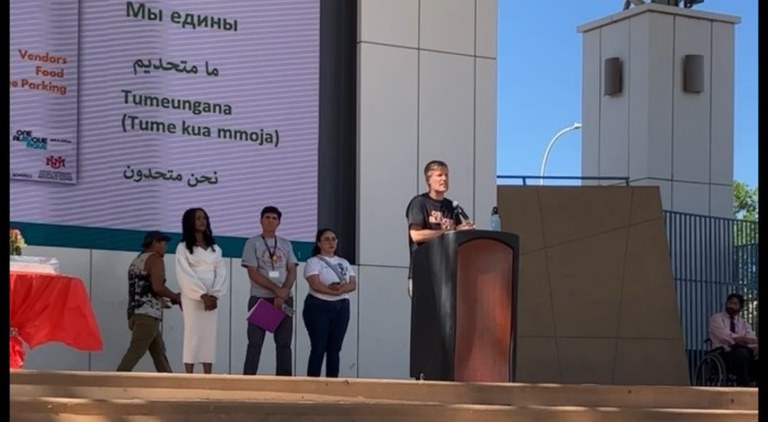 The City of Albuquerque's Office of Immigrant and Refugee Affairs (OIRA) held a multi-cultural celebration on Civic Plaza in honor of World Refugee Day. World Refugee Day is an international day designated by the United Nations to honor refugees around the globe. It celebrates the strength and courage of people who have been forced to flee their home country to escape conflict or persecution.
"Every year, Albuquerque's World Refugee Day celebration brings people of all backgrounds together to learn about refugee communities" said Beatriz Valencia, OIRA Liaison. "It is our hope that we can create a sense of belonging, and to continue to foster a city where refugees are always included."
OIRA collaborated with multiple community organizations. This year's event featured a U.S Naturalization Ceremony, a multi-cultural fashion show, and dance performances by Ukrainian, Afghan, and African dance groups. Event attendees also enjoyed food from around the world such as Afghan, Syrian, Arab, African and Ukrainian cuisine.
"We recognize the strength and resilience of our refugee communities in Albuquerque, many of which include those who are rebuilding their lives after fleeing war, violence, and persecution," said Mayor Tim Keller. "Whether they choose to call this city home, or are simply passing through, we will continue to respond to their needs in a culturally appropriate and responsive manner."
The City continues to support and respond to the needs of refugees in various capacities. In the past year, OIRA was instrumental in facilitating community listening sessions in Afghan and African communities to address issues faced and how the City can support. Additionally, OIRA partnered with the Department of Justice for the Protecting Places of Worship forum that brought together faith leaders of various communities. The City continues to promote language access, and implement it across city departments to ensure refugee communities can access city resources in their languages.