City of Albuquerque Awarded $1.3 Million Grant from the W.K. Kellogg Foundation
Funding will further efforts to increase equity and diversity in the City's workforce
ALBUQUERQUE - Today, Mayor Tim Keller announced the City of Albuquerque's Office of Equity and Inclusion has been awarded $1.3 million in grant funding from the W.K. Kellogg Foundation. The grant is a reflection of the positive impact the Office of Equity and Inclusion has already had on diversifying the City of Albuquerque's workforce. The funding will enable the City to scale up these efforts and become a national leader in workforce diversity policy change. The City will focus on developing a City workforce that is representative of Albuquerque's population demographics.
"Government should reflect the communities we serve. Thanks to a lot of hard work from the City's Office of Equity and Inclusion, the City's workforce is becoming more diverse. Dismantling systematic inequities isn't something that happens overnight and there is more work to be done, especially to level the playing field so that people of color and women are fully represented at City Hall," said Mayor Keller. "This grant from the W.K. Kellogg Foundation will scale our efforts and we appreciate that they recognize this an effort worth investing in."
The announcement comes on the heels of a new study that shows the City is making progress developing an equitable workforce through targeted outreach and recruitment and the removal of barriers experienced by underrepresented groups. The Workforce Equity Study compares employment data from March 2018 to March 2019 collected from the City of Albuquerque's Human Resources Department. Results show that the City's workforce is slightly more diverse than the population as a whole. Additionally, the Keller Administration's efforts have resulted in a higher percentage of African-American, Asian, Native American, multi-racial groups, and women than they did one year ago. However, non-Hispanic people of color and women are still underrepresented compared to the population of Albuquerque.
"We're proud to support the City of Albuquerque in building a workforce equity model that provides economic opportunities that can change the lives of children and families in our communities," said Frank López, director of New Mexico programs at the W.K. Kellogg Foundation. "Their efforts to accelerate change within the city government workforce model is creating a path to equity and a future of generational prosperity for others to follow."
The Office of Equity and Inclusion's efforts are focused on increasing opportunity for employment outreach efforts, further improving the application process, providing more opportunities to youth with early work experience, and addressing barriers applicants and employees face such as "banning the box", improving methods for applicants to demonstrate qualifications and providing real opportunities for employees to move up the career ladder within the City.
"Discrimination on the basis of race has been illegal for half a century, but disparate treatment and disparate impact continue," said Michelle Melendez, Director of the Office of Equity and Inclusion. "Implicit bias plays a role, as does a system of mass incarceration that disproportionately targets African Americans and Latinos. This grant will further our goals to improve the workforce through career readiness, removal of barriers, and broadening recruitment." 
In 2018, the Office of Equity and Inclusion began conducting targeted outreach to City departments. Human Resources and the Office of Civil Rights began working with the NAACP and other groups to recruit and retain African Americans and other under-represented groups for the Albuquerque Police Department, Albuquerque Fire and Rescue Department and other City departments. The City conducted its first job fair on March 19, and found that a majority of the 400 job seekers came from areas of the City with the highest unemployment and poverty rates.
After the first year of targeted outreach to underrepresented populations, the data shows a 13% increase in the number of Native American employees, 15% in Asian, 9% in Black, and 11% of multi-racial employees. Representation of women improved by 5%, from 32% to 33% of all City employees.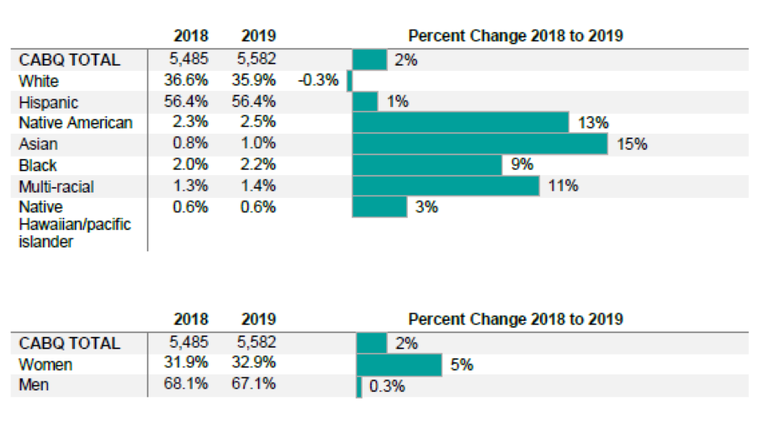 City of Albuquerque Workforce Equity Study, 2019
"This preliminary analysis suggests that the City has some work to do in creating an equitable and inclusive workforce, especially for non-Hispanic people of color and women," said Brittany Ortiz, Deputy Director of the Office of Equity and Inclusion. "We've begun sharing workforce data by race and gender with department directors as well as strategies to make the applicant pool more inclusive," she added.
A second Job Fair is scheduled for July 13 from 9:00 am to 3:00 pm at Cottonwood Mall. All City departments will be present, as well as UNM, CNM and the New Mexico Department of Workforce Solutions. All City employees staffing the job fair have received ADA training and a team of certified American Sign Language interpreters will be on site.
About the W.K. Kellogg Foundation: The W.K. Kellogg Foundation (WKKF), founded in 1930 as an independent, private foundation by breakfast cereal pioneer, Will Keith Kellogg, is among the largest philanthropic foundations in the United States. Guided by the belief that all children should have an equal opportunity to thrive, WKKF works with communities to create conditions for vulnerable children so they can realize their full potential in school, work and life.