City Job Fair Draws Talented Individuals Seeking New Career Opportunities
Job seekers connect with over 50 employers at City-sponsored career fair
The City of Albuquerque's Office of Equity & Inclusion collaborated with New Mexico Work Force Solutions, Albuquerque Hispano Chamber of Commerce, New Mexico Office of African American Affairs, and the African American Chamber of Commerce to host the Diversity Job Fair. This event drew job seekers looking to connect with employers in various different job fields.
Employers present included the City's Technology & Innovation, Aviation and Solid Waste departments, and others. With more than 5,500 employees, the City is one of the largest employers in the metro area. The City continues to be a role model for equity and inclusion through the efforts to increase workforce diversity, emphasizing that municipal government is better able to serve a diverse community when its workforce is broadly representative of its population demographics.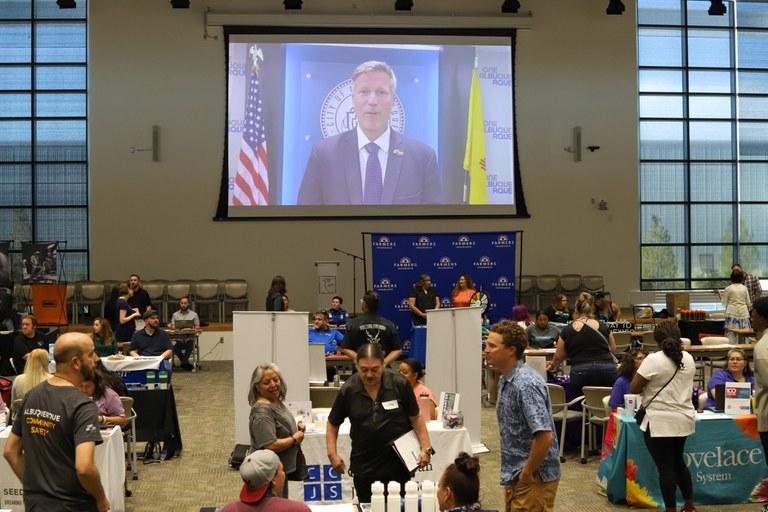 Outside of City opportunities, employers including Los Alamos National Laboratory, Clearly Clean Janitorial Services and others committed to increasing their workforce diversity, were able to connect with talented individuals. Job-seekers attended resume building workshops, financial empowerment sessions, and career explorations workshops where they learned insight into embarking on career paths in the trades and other industries.
 "Albuquerque is a very diverse place and we want to ensure that our city's workforce reflects this, and we encourage local businesses to hire people from under represented communities" said Michelle Melendez, Director of Office of Equity & Inclusion. "Increasing workforce diversity is just one way we can continue to build on a more inclusive Albuquerque."